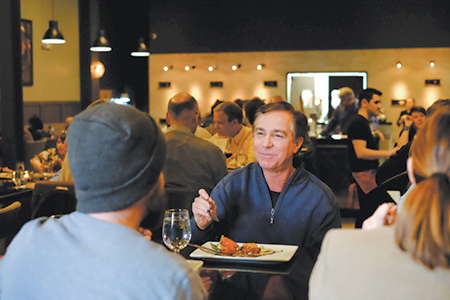 Stompin Barley opened on River Road in Carmel in February 2017, a month after a Devour Indy dining event promoting more than 200 local restaurants.
One of the first orders of business for owners Richard and Alesia DeBoer was signing up for the summer installment of the series.
"It was a no-brainer," Alesia DeBoer said of the decision to participate. "Devour is so well-known, people look forward to it. And they go places they wouldn't normally go."
Chefs vie for adventurous diners' attention by putting together special fixed-price menus, usually three or four courses highlighting some of the chef's best work. Discounts provide an incentive to try something new, and restaurants hope the payoff comes in the form of repeat visits.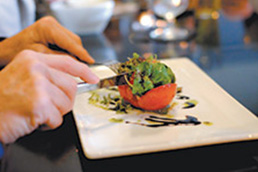 "It brings a lot of new people into the restaurant," Richard DeBoer said, citing a 15-percent increase in revenue during Devour Indy. Stompin Barley's business also was up during the inaugural Savor Hamilton County promotion, which just ended a two-week run on March 25.
Inspired by Restaurant Week in New York City, the local promotions have proven popular since Devour Indy predecessor Devour Downtown debuted in 2005, followed by Chow Down Midtown and Devour Northside. The separate events were combined in 2017 into Devour Indy.
That's also when Indianapolis public relations veteran Susan Decker launched her Savor series, starting by featuring ethnic restaurants in the International Marketplace district near Lafayette Square Mall. She followed that with Savor Speedway and Savor Downtown Indianapolis.
The response she got from restaurant owners and managers—many of whom had never been asked to participate in such events—encouraged her to continue adding geographical locations. Another Savor the International Marketplace is planned, and Savor Midtown is in the works for this summer.
"If we pool a lot of restaurants together, it draws more attention to the efforts of everyone," Decker said. "There is an incredible culture here that we now have the ability to share."
Restaurants pay a $50 fee to participate in Savor, sharing some of the marketing expenses. Each event has its own Facebook page and website, where would-be diners can review Savor menus and plan their visits. The Savor Downtown Indianapolis website logged nearly 310,000 visits in less than six months.
"The point of having these promotions is to get people in the doors during the slower months, which is usually months starting with J," said Lauren McGraw, event manager for Bluebeard in Fletcher Place. "You get people in seats who normally wouldn't be here, and you open their eyes to a place they wouldn't normally go."
Bluebeard doesn't have trouble filling seats, but McGraw said participating in the Devour and Savor events have allowed the restaurant to demystify its eclectic menu by putting together a more traditional three-course meal for newbies.
At LouVino in Fishers, General Manager Michael Henry said the restaurant was noticeably busier during Savor Hamilton County, especially during the week when business tends to lag. LouVino highlighted its current selection of Southern-inspired small plates for the event, but concocted special drinks—including a cherry-wood-smoked maple old-fashioned (using bourbon from Savor sponsor Maker's Mark).
"Our goal is to have folks come back three times," Henry said. "That pretty much seals the deal."
Stompin Barley Executive Chef Kyle Allbright likes to put together something special for restaurant-week promotions. His most recent creation, Korean barbecue short ribs served over pappardelle pasta, was so popular that it might earn a spot on the permanent menu.
"It's a chance for a creative play that I wouldn't have normally," he said.
Decker said she advises restaurants to keep their special menus consistent with everyday offerings, so restaurant-week diners don't return to find a completely different dining experience.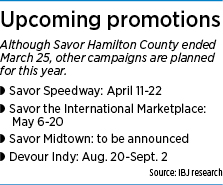 "We want the restaurant and the chef to be front and center and showcase what they do best," she said.
Anecdotal evidence suggests the strategy is working, although hard data is scarce.
Cake, a Sysco company that provides technology to restaurants, analyzed sales from some of its customers the week of and the week after promotions like Savor and Devour and found that those participating had a revenue boost about 19 percentage points higher than those that did not.
In addition, the average bill rung up by customers during a restaurant-week promotion was $43.35, falling to $39.74 the week after the promotion ended.
Chuck Mack is a believer. The owner of Moe & Johnny's on College Avenue south of Broad Ripple has participated in past Devour events and already has signed on for the yet-to-come Savor Midtown.
"When you do coupons or deep discounts, you don't grow your business," he said. "You grow your coupon business. Sure, those people will come in and see your restaurant, but they don't come back until they have another coupon."
But Mack said neighborhood restaurant promotions tend to attract customers who want to try something new and will spend more time soaking it all in. And if they spring for that second glass of wine, all the better.
"The biggest thing for me is the quality of their experience," he said. "The win for me isn't that [first] night. The win for me is the next night."•
Please enable JavaScript to view this content.