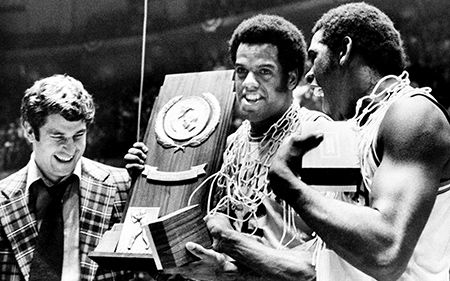 This is Final Four weekend, which this year is about as Indiana as the Alps. No team from the state is in San Antonio, of course. But there's not even a player. Not one, on any of the teams. It's as if we all have our noses pressed to the window, gazing at the big party inside.
What to do? Well, here's the NCAA Final Four record book, which is thick enough to serve as a doorstop. Let's flip through the pages and find out how much of a factor Indiana remains, at least in print.
OK, start with an easy one. The seventh and last perfect national champion is … ?
If you don't know it's Indiana in 1976, you must leave the state by sundown. By the way, the Hoosiers are also one of only seven wire-to-wire teams: starting the season ranked No. 1, staying there the entire season, and finishing with a championship. That's a heap of pressure to carry.
"I don't know if you can be any more of a target than being No. 1," said Quinn Buckner, a starter on that team. "The real genius was the way Coach Knight diverted a lot of the attention by some of the things he did. I would guarantee you if he thought we were starting to feel pressure, he may act out one way or another. The press tended to follow him, and he kept us shielded as a rule from the press."
Next. Who needed 14 years on the job to get his school to his first Final Four? Longer than Dean Smith, Mike Krzyzewski, Tom Izzo, Bob Knight or Bill Self? Way longer than Brad Stevens?
Martinsville's own John Wooden. Once he did, though, it kind of became a habit.
Who shares the all-time Final Four record for fewest 3-point attempts in a game?
Indiana, putting up only four against UNLV in 1987. Funny thing. UNLV's Freddie Banks set a record in the same game by making 10 3-pointers by himself. It still stands. But he lost.
Who shares the record for most 3-pointers in a national championship game?
Steve Alford, with seven against Syracuse in 1987—or just two days after the whole team tried only four of them against UNLV.
Who has the championship game record for most field goal attempts, with 36?
Rick "Shot-a-minute" Mount, who fired at will from the outside for Purdue against UCLA in 1969. It's not like anyone was going to drive the basket against Lew Alcindor.
Who has the lowest free throw per-centage ever in a championship game?
Indiana in 2002. The Hoosiers shot seven against Maryland and made but two.
The lowest field goal percentage?
Alas, Butler. You might recall how the fairy tale of 2010-2011 ended with the clangs of wayward jumpers bouncing off the rim against Connecticut, the Bulldogs missing 52 of 64 shots. So the state of Jimmy Chitwood owns the records for worst nights from the field and at the line.
What Final Four Most Outstanding Player scored the fewest points in the two games?
Indiana's Marv Huffman, with 18 in 1940. They must have been timely.
Who's the youngest coach to win the national championship?
Indiana's Branch McCracken, at 31 in 1940. Knight, by the way, is fourth. He was 35 in that 1976 perfect run.
Who's the oldest coach to win the national championship?
Connecticut's Jim Calhoun at 68. Butler was the victim.
With Loyola-Chicago in the Final Four, the Ramblers' 1963 national championship overtime win over Cincinnati is being relived. Loyola's team captain was Jerry Harkness, who would later make his home in Indianapolis. But who was the leading scorer in that game?
Cincinnati's Ron Bonham, a high school star at Muncie Central.
What was the only team other than UCLA to win the national championship in Wooden's last nine seasons as coach?
North Carolina State in 1974, with a heavy Indiana accent. The coach was Norm Sloan, who went to Lawrence Central. The point guard was 5-foot 7-inch Monte Towe, a product of Oak Hill. The center was Tim Stoddard, a member of the 1971 unbeaten state champions from East Chicago Washington.
What did that North Carolina State team have in common with national champion UCLA and Final Four entrant Louisville the next season?
They each had a player from that East Chicago Washington Senators team—Pete Trgovich for UCLA and Junior Bridgeman for Louisville. The Senators' entire front line played in the college Final Four. Any question why nobody beat them in high school?
What's the highest-rated national championship game in TV history?
Thirty-nine years later, it's still Indiana State and Larry Bird against Michigan State and Whatshisname. Of course, that was before the Home Shopping Network, Netflix and the like chopped up the audience. So that game is likely to stay No. 1 forever.
There have been, by the NCAA's unofficial count, five triple-doubles in Final Four history. One player owns three of them. Who?
Oscar Robertson, who did it all for Crispus Attucks, and did it all for Cincinnati, and later did it all in the NBA. About the only thing he didn't do was win the national championship. Cincinnati did that the year after he was gone.
Who holds the record for most fouls (33) and most players fouled out (four) in a Final Four game?
Indiana, in the 1992 Duke loss. Ask anyone on the team why and you'll get an earful, quicker than you can say Ted Valentine.
Who was the first No. 1 seed to play in a national championship game?
Bird and Indiana State. Then again, that was the first year of seeding. Michigan State, by the way, was a 2.
Only six of 79 national championship games have been decided by one point. The program that won two of them …
Indiana, in 1953 and 1987.
What have Purdue and Butler done that Indiana has never done?
Play a Final Four game within the city limits of Indianapolis.
Four high school players from this state have been named Most Outstanding Player at a Final Four, and one town produced half of them. What is it?
New Castle, with Huffman in 1940 and Kent Benson in 1976. Alford nearly made it three in 1987. The other two were Terre Haute Garfield's Clyde Lovellette for Kansas in 1952 and Bloomington North's Sean May for North Carolina in 2005.
The lowest-seeded team to ever win a game at the Final Four?
Four-way tie at No. 8: UCLA in 1980, Villanova in 1985, Kentucky in 2014 and … Butler in 2011. Loyola, seeded 11th, will try to beat them all. The state of Indiana will be watching. From afar.•
__________
Lopresti is a lifelong resident of Richmond was a columnist for USA Today and Gannett newspapers for 31 years. His column appears weekly. He can be reached at mjl5853@aol.com.
Please enable JavaScript to view this content.