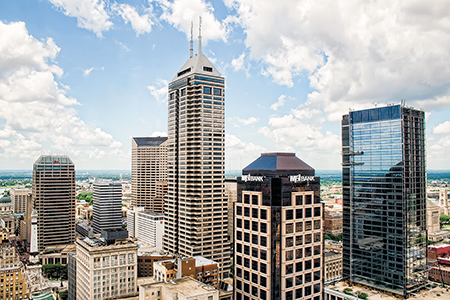 Officials from Amazon.com Inc. visited Indianapolis late last month as part of their effort to choose a location for a second North American headquarters that eventually could employ as many as 50,000 people.
Public officials and community leaders have been tightlipped about the visit as well as their bid for what Amazon is calling HQ2.
But two sources with knowledge of the negotiations said Amazon officials stayed overnight in a downtown hotel during the visit. One source said the visit lasted about a day.
The visit occurred the week of March 19, the same week Amazon officials were reported to have visited Chicago for two days.
Indianapolis and Chicago are among the 20 cities that Amazon has identified as finalists in what has become a public competition to land HQ2. Last year, the company invited communities with populations of more than 1 million to bid for the project. Amazon has said it plans to invest up to $5 billion over 10 to 15 years.
Amazon initially received proposals from 238 locations and narrowed the list to 20 in January, when it said officials would visit each community.
Local officials involved in the bid—which include leaders from Indianapolis, Fishers, the state and the Indy Chamber—have signed non-disclosure agreements that prohibit them from talking about the negotiations. On Monday, Indiana Economic Development Corp. President Elaine Bedel declined to comment.
The sources close to the process who spoke to IBJ would not confirm any details about the visit, including where Amazon officials visited or with whom they met.
Leaders in other cities have been slightly more forthcoming.
Toronto Mayor John Tory told reporters last month that Amazon officials want little "fanfare" as they visit cities.
"They are asking for more details of the things that were contained in the bid books and they're going about a very methodical process of making their selection," CNN quoted Tory saying.
Officials in Denver, Dallas, Philadelphia, northern Virginia and Montgomery County, Maryland, have confirmed to media outlets Amazon has visited their communities as well.
Philly.com reported that Amazon's site-selection team spent about a day and a half in Philadelphia. The report said no elected leaders, such as the mayor, met with the team.
Crain's Chicago Business reported that Amazon leaders met with local tech leaders, visited a tech hub and toured possible sites while in the Windy City. They also had dinner with Chicago Mayor Rahm Emanuel and Illinois Gov. Bruce Rauner at the Chicago Cultural Center, overlooking Millennium Park, Crain's said.
Please enable JavaScript to view this content.