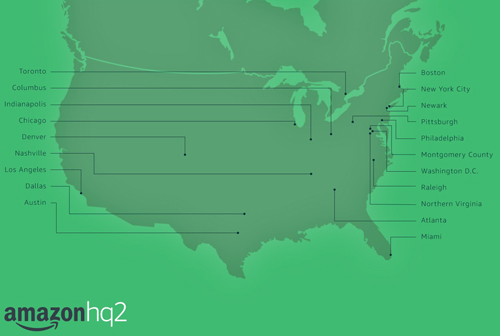 Amazon.com Inc. has narrowed the field of cities for its proposed new headquarters to 20, and is including Indianapolis on that list.
The list announced Thursday also includes New York, Boston, Chicago, Miami and Austin, Texas.
Seattle-based Amazon solicited proposals in September for its second corporate seat, a project that's expected to cost more than $5 billion and create 50,000 high-paying jobs over the next 10 to 15 years.
Politicians across the U.S. and Canada eagerly expressed interest, and the company received proposals from 238 locations, including from smaller markets like Tulsa, Oklahoma, and Memphis, Tennessee. The company plans to make a decision this year and will continue discussions with the finalists, it said in a written statement Thursday.
"We are thrilled to see Indianapolis on the list of finalists for Amazon's second headquarters," Indiana Gov. Eric Holcomb said in written remarks. "It speaks to Indiana's growing reputation on the world stage as a great state to locate and grow a business. We look forward to working with the central Indiana region and Amazon as they continue to narrow their list of potential sites for HQ2."
The list reveals little in terms of geographic preferences, with finalists on both coasts and the heartland. Amazon found it difficult to engage with so many applicants and had to whittle the list to enter the next phase of evaluation.
"Getting from 238 to 20 was very tough–all the proposals showed tremendous enthusiasm and creativity," Holly Sullivan, of Amazon Public Policy, said. "Through this process we learned about many new communities across North America that we will consider as locations for future infrastructure investment and job creation."
IBJ reported in October that a "small, diverse group of business and private stakeholders" coordinated—and funded—by the Indy Chamber are guiding the local bid effort. Fishers Mayor Scott Fadness told IBJ at the time that the push was an "all-hands-on-deck" effort, and that he had been "overwhelmed by the desire by central Indiana to come together on this."
Whatever city gets chosen will be transformed by Amazon, which has already changed the character of its native Seattle, setting in motion a building boom and rising rents. High-paying tech jobs can permanently transform a region and raise the political prospects of the leader who helped seal the deal.
Amazon has said its preferences for the site include a metropolitan location with a population of more than 1 million, mass transit, proximity to an international flight hub and the potential to retain and attract technical talent.
The finalist cities are Atlanta; Austin, Texas; Boston; Chicago; Columbus, Ohio; Dallas; Denver; Indianapolis; Los Angeles; Miami; Montgomery County, Maryland; Nashville, Tennessee; Newark, New Jersey; New York City; Northern Virginia: Philadelphia; Pittsburgh; Raleigh, North Carolina; Toronto; and Washington, D.C.
"Today's short list from Amazon makes clear that no matter what the final decision may be, Indianapolis is already a big winner," Indianapolis Mayor Joe Hogsett said in written comments. "Every day we are gaining more recognition as a growing tech hub, and I am proud that central Indiana's unique combination of connectivity, quality of life, and affordable living has once again put us on the global stage. I want to thank Mayor Scott Fadness and our regional partners for their tireless work, and I look forward to continuing our unprecedented collaboration to promote the limitless future of the Crossroads of America."
Tech leaders and economic development experts told IBJ that central Indiana has pros and cons as a potential site for the new headquarters.
Please enable JavaScript to view this content.