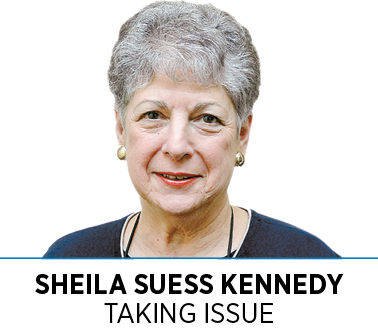 There's an old saying that, in politics, "long-range" means "until the next election." Think about that the next time you bend a rim because you are unable to avoid one of Indianapolis' ubiquitous potholes.
The streets of our city currently resemble those of an impoverished country. Indianapolis isn't unique—the American Society of Civil Engineers reports that, all over America, physical infrastructure is dangerously eroded. (Our government is so broken that Congress can't even agree on something as noncontroversial as fixing the roads and bridges for which the federal government is responsible. But that's a topic for another day.)
Here in Indianapolis, we are seeing what happens when successive administrations—Republican and Democratic alike—substitute cosmetic approaches for substantive repairs, "fixing" streets with patches to the potholes and a thin coat of asphalt, rather than addressing the roadbed issues that eventually cause streets to fail. Those roadbed repairs (also known as "doing it right") are initially more expensive; over the long term, of course, they are much less expensive. Doing it right saves money over the long haul.
That brings us back to my observation that long-range in politics is only until the next election. Every mayor with political ambitions to move up has an incentive to spend the least amount necessary to convince the public he is "doing something," and to leave the more expensive repairs to some unlucky successor.
Indiana's ill-advised tax caps created another incentive: fiscal game-playing.
Exhibit One: When Mayor Greg Ballard sold the water and sewer systems to Citizens Energy, he promised to use the proceeds of the sale to repair the city's streets. However, those utilities had a negative value. Citizens paid for the acquisition by assuming the systems' combined liabilities, which totaled nearly $3.5 billion. Obviously, paying for something by assuming debt doesn't generate any "up front" cash that can be used for infrastructure repair, so, as part of the transfer agreement, Citizens "voluntarily" recalculated the amount of its annual PILOT payment (payment in lieu of taxes) to the city.
That allowed the city to issue bonds, secured by the PILOT increase, and to use the proceeds of those bonds to repave streets. The mayor claimed credit for completing very visible (albeit, as we are seeing, not very long-lasting) public improvements "without raising taxes." Citizens was allowed to raise its rates to cover both the necessary water and sewer repairs and the increased PILOT payment. This transaction shifted the cost of street repairs from property-taxpayers to utility ratepayers, severing the necessary transparency between tax cost and public benefit. Ratepayers paid—and continue to pay—for a public good enjoyed by all taxpayers.
Ballard's predecessors might not have engaged in anything quite as creative as this, but it's safe to assume they also found interesting ways to shift funds, to defer costly but necessary repairs, and to avoid politically undesirable tax increases.
This year, the craters that have proliferated throughout Indianapolis should be a reminder and a rebuke. Those potholes we dodge are the consequences of Americans' favorite myth: that public goods can be delivered on the cheap, and without cost to us.
Actually, according to the American Society of Civil Engineers, driving on roads in need of repair in Indiana costs each driver $272 per year—and that computation preceded this year's potholes. Much as we want to disbelieve it, there is no free lunch. We can pay for decent roads with our tax dollars, or in other ways. But we will pay.•
__________
Kennedy is a professor of law and public policy at the School of Public and Environmental Affairs at IUPUI.
Please enable JavaScript to view this content.