Republican State Sen. Mike Delph has been in office since 2005 and has never faced a primary challenger—until now.

And his opponent, former Carmel Redevelopment Commission Executive Director Corrie Meyer, could pose a threat to the 48-year-old Carmel resident, despite never having run for office before.

Meyer, who announced her campaign last June, has received endorsements from six former and current Republican mayors in and near Senate District 29, which includes parts of northwestern Indianapolis, Zionsville and Carmel and is considered a safe Republican seat.

And last month, Meyer, 40, received official support from the Indy Chamber.

"In terms of what she's done as an urban planner in both the private and public sector, she really understands the tools that municipalities have," Indy Chamber President and CEO Michael Huber said. "That's a skill that's sometimes hard to find in legislators."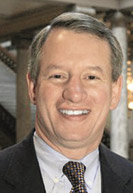 Murphy
Mike Murphy, a former Republican state lawmaker, said the business community and GOP leadership support for Meyer isn't surprising because Delph has been a controversial senator.

"All these businesspeople and the Republican establishment have been complaining for years about what an embarrassment Mike Delph is," Murphy said. "They have been longing with a great hope … that somebody would emerge and have the guts to take him on and win."

Murphy has not endorsed or financially supported either candidate, although Delph said Murphy has opposed him throughout his career. Still, Murphy said Delph's hard-working attitude, along with the support he has from deeply conservative and religious voters, will be tough to beat.

"The guy works his tail off. He will beat you by out-walking you," Murphy said. "Plus, it's hard to take on an incumbent."
Huber
The latter is an understatement. According to the National Institute on Money in State Politics, incumbents win their races more than 90 percent of the time.

The winner of the GOP primary will face Democrat J.D. Ford in November. Ford opposed Delph in 2014 and received 46 percent of the vote.

Controversial from the start

Delph joined the Legislature in 2005 after an unexpected win in a special election to replace Sen. Murray Clark, who retired with one year remaining on his term.

Party leaders at the time, including then-Gov. Mitch Daniels, had thrown their support behind Indianapolis firefighter Isaac Randolph, but Delph decided to run anyway.

"It was set up to be a battle between Isaac Randolph and Mike Delph," said Murphy, who was Marion County GOP chairman at the time.

But then Wayne Township Trustee Dan Gammon tossed his name in the ring, and that split the Marion County branch of the caucus.

The inner-party fighting in Indianapolis, along with a perfectly timed snowstorm and Delph's support elsewhere in the district, allowed him to secure a majority of the caucus votes.

Since then, Delph has been a strong conservative voice in the General Assembly, especially on issues such as same-sex marriage, abortion and immigration. But he's no yes man, which at times has put him in conflict with Republican leaders in the district and the Senate.

In 2014, he heavily advocated to get a measure on the fall ballot that would have banned same-sex marriage in Indiana's constitution, despite growing resistance among voters—even Republicans—to move in that direction. That same year, Senate leaders punished Delph after he tweeted about a private GOP caucus discussion about the same-sex marriage measure.

In this year's session, Delph caused a stir when he proposed an amendment to a bill that would have lifted the ban on public spending on light-rail transit projects in central Indiana. The amendment would have required Indianapolis to prove that public transit money isn't needed to fill potholes. The move by Delph effectively killed the entire bill.

Delph also voted for a bill this year that limits how local communities can regulate short-term rentals, like Airbnb. It's a measure Carmel Mayor Jim Brainard opposed.

Murphy said Republicans have long wanted to push Delph out of office.

"You either love him or you hate him," Murphy said. "He's probably the most controversial state senator in the past 25 years."

But Meyer has also been involved in some unpopular projects in Carmel. Last year, she oversaw the introduction of the $40 million City Center hotel that the city will help finance and effectively own. Private hotel managers and some Carmel residents have expressed concerns about the city's involvement with the project.

Meaningful endorsements?

In addition to Brainard, former Indianapolis Mayor Greg Ballard, Zionsville Mayor Tim Haak, Noblesville Mayor John Ditslear, Fishers Mayor Scott Fadness and former Carmel Mayor Jane Reiman have endorsed Meyer's campaign.

And she's anticipating more endorsements before primary Election Day on May 8.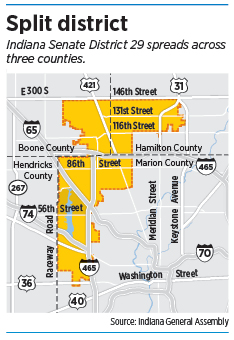 "I feel like we're making great momentum, and we're going to continue to build that momentum over the next four weeks," Meyer said. "The mayors of central Indiana support me, and having their respect and their recognition of what I'm capable of is certainly tremendous."

Delph has received endorsements as well, including from Indiana Right to Life and the Wayne Township GOP Club.

In a letter to Delph, Indiana Right to Life Chairman Mike Fichter said the organization is supporting him because of his "strong pro-life voting record and longstanding support for the sanctity of life."

But that's not what Delph said he is focusing on.

"I don't waste time with endorsements," he said. "I don't think they mean a whole heck of a lot."

Political experts agree that endorsements don't always equal votes.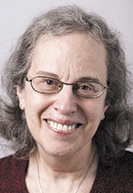 Hershey
"They don't tend to make great deal of difference," Indiana University political science professor Marjorie Hershey said.

Murphy said he also doesn't put much weight on endorsements anymore because it's much easier than in the past for voters to do their own research on candidates, but that the mayoral support could help Meyer.

"All these guys are used to being winners," he said. "They're not used to associating with losers."

Hershey said the mayoral and chamber support Meyer has received is unusual for a challenger.

"It would appear that she's got the kinds of endorsements that would help a challenger," Hershey said. "But unless the incumbent popularity level is relatively low, you'd still have to assume the incumbent has the advantage."

Delph certainly has support throughout the district as well.

At a recent Pike Township GOP event that Meyer and Delph attended, the two candidates answered questions on topics including immigration, college tuition and a commuter tax in central Indiana—and Meyer received some pushback from voters already pledging their support to Delph.

Advantage of incumbency

Delph welcomes the primary challenge.

"I think competition is a good thing," he said. "I think the voters will have a clear choice here. They'll have a conservative choice and a liberal choice."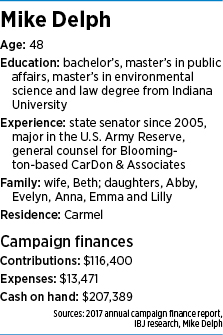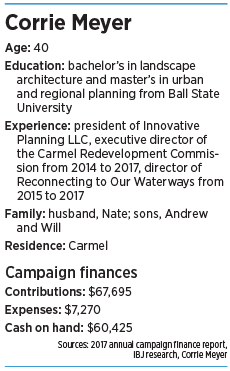 And if money is any indication, Delph isn't worried. In 2017, he spent $13,470 on his campaign, which is nearly equal to what he spent in 2009 and less than what he spent in 2013—both years when he did not have an upcoming primary opponent.

Delph had more than $207,000 cash on hand at the end of 2017, according to the most recent campaign finance reports.

Meyer raised close to $68,000 in 2017 and spent about $7,200. She had $60,425 cash on hand at the end of the year.

"I'm very confident," Delph said. "I think we're going to win this thing."

Meyer knows she is facing an uphill battle. She said that's why she started canvassing neighborhoods last year and is now out at least three days per week.

"We are the underdogs and we have got to connect with voters," Meyer said. "Office holder after office holder, the incumbents are being challenged and they're being defeated because people are looking for change."

But Hershey said incumbency becomes a cycle that works against challengers. Incumbents receive more funding because they're already in office, and that results in more media coverage, and more media coverage increases the candidate's name recognition. And name recognition wins races.

"It's always very hazardous to predict these things, but definitely the headwind would be against the challenger," Hershey said. "But this challenger probably has a better shot than most challengers."•