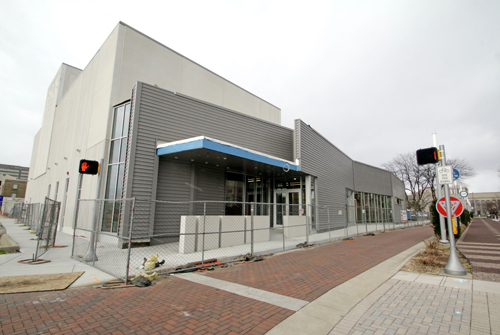 In a somewhat unusual move, the Phoenix Theatre is making a public plea for a naming rights sponsor willing to contribute $2 million for its new home.
The $11 million project is nearing completion at the northeast corner of Illinois and Walnut streets in downtown Indianapolis. Its official opening is set for April 28.
The theater has raised $8.5 million for the project. The $2 million naming rights deal would go toward the $2.5 million balance.
The 20,000-square-foot building has been designed to include a 150-seat proscenium theater, a 90-seat black-box theater, a rehearsal studio, classrooms, costume and scene shop. It also will include an office for staff, dressing rooms, a grand lobby that opens to the adjacent Glick Peace Trail portion of the Indianapolis Cultural Trail, a special-events lounge and gallery space, and a prep kitchen for catered events.
According to the theater, the potential sponsor would have exposure to 17,500 vehicles that pass the Illinois and Walnut streets intersection daily, plus pedestrians and other traffic that can see the building from the Cultural Trail and Meridian Street.
Frank Basile, board president for the Phoenix, said theater officials initially wanted $4 million for the naming rights, but they didn't have any interest from donors at that price level, so they lowered it to $2 million—a price he considers a bargain.
"When there's no takers at a certain price, you lower the price," Basile said. "We wanted to make it the best naming opportunity for real estate in the city."
The $2 million could be paid over multiple years, and the length of time attached to the naming rights is negotiable. The name of the building would include the sponsor name followed by "Cultural Centre." So, for example, it could be the "John Doe Cultural Centre."
"I thought about doing it myself, but I'd like to get someone else to name it," said Basile, a major philanthropist in the Indianapolis-area arts community. He said he thinks someone else could attract more new donors and patrons to the theater.
"Nearly everybody I know already donates," he said.
The price is significantly lower than some of the high-profile naming rights deals in Indianapolis, like the $40 million deal Carmel-based insurer CNO Financial Group Inc. has with Pacers Sports & Entertainment for Bankers Life Fieldhouse, or the $121.5 million deal Lucas Oil inked for the home of the Indianapolis Colts.
"For $2 million, as opposed to Lucas Oil at $121 million, it's a real value," said Pam Dyar, director of advancement for the Phoenix Theatre. "The visibility is tremendous."
But it's tough to compare for-profit sports complex naming opportunities to not-for-profit arts organizations, according to Angela White, senior consultant and CEO of Johnson, Grossnickle and Associates.
In the arts world, the $2 million price tag seems to be reasonable when factors like visibility, prestige, the local market and donor wealth are considered, White said.
She said it's likely the naming rights would be secured by an individual or family donor, rather than a business, but it's possible a company would be interested.
White said it is uncommon for an organization to openly advertise a naming rights opportunity and the price associated with it. But she has noticed on a national level that arts not-for-profits are being much more assertive in their fundraising efforts.
"The Phoenix is obviously looking at this in a bold way and saying, 'Hey, we want you to know,'" White said. "That could identify some new sources."
The new building will officially open with a ribbon-cutting event featuring a walk led by a flying street-puppet phoenix from the theater's current home at 749 N. Park Ave. to the new space.
Please enable JavaScript to view this content.