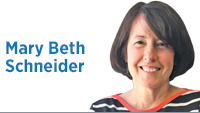 The ambulance was just ahead of me as I turned on the car radio. "To everything (turn, turn, turn), there is a season (turn, turn, turn)," The Byrds sang. "And a time to every purpose under heaven."

Don't tell me karma isn't real.

In that ambulance was my 91-year-old mother. After a week in Methodist Hospital for a variety of ailments—most of them just a result of being old—she was now headed to a rehabilitation facility in Illinois, a place close to my brother and sister and run by someone they know and trust.

After five years of caring for her—and for my dad, from 2013 until his death in May 2016—I had reached the end of my ability to give her all she needed. Love isn't always enough.

"A time to be born, a time to die," they sang.

Oh lord, I thought, not a time to die.

"A time to heal, a time to laugh, a time to weep."

Yes, to all three.

When I quit my job at The Indianapolis Star and moved my parents in with me, I honestly had no idea what I was getting into. Oh, I thought I did. My parents couldn't live on their own anymore, end of discussion. But nothing prepares you for the fact that, from that moment on, you are only lightly sleeping at night, always listening for the sound of someone needing help. And you are busy all day being nurse, cook, maid, entertainment, TV-channel changer and only in rare moments daughter.

The list of things I learned is long.

Number one on the list? Never—and I mean never—ask a family caregiver what it is like to be retired.

If you go from working 40 hours a week to working 168 hours a week, with no paid vacations or holidays, you are not retired. Nor are you a saint, and being called that suggests unrealistically that you are somehow better than mere mortals, not an ordinary one who gets tired, angry and impatient.

I learned that getting respite care is expensive. It cost about $400 a month just to have one afternoon off a week.

But I also learned that kindness is everywhere. For every person who stood there watching as I struggled to open a door while helping my wobbly dad with his cane and my mom in a walker or wheelchair, there were 10 people who rushed to help. There were the waitresses at The Friendly Tavern in Zionsville who always came and gave my mom a hug and a hello. There were the people everywhere who would notice my dad's WWII cap and come up to thank him for his service.

And there were the friends who were there with a shoulder for me to cry on or a bottle of wine to share.

I learned I had to ask for help, and that it would be there when I did.

I learned that even when they are too old to care for themselves, your parents remain your parents. I cried as I told my mom she needed to go to a rehabilitation facility—and she comforted me, patting me on the back, stroking my cheek.

I learned that, even on bad days, there are moments to smile about and laughter. Mom and I adapted a political slogan as our private joke. When she said she couldn't get up, or couldn't take one more step, but then managed it, we'd hold our fists up and say: "Nevertheless we persisted."

I cannot romanticize the last five years. They were hard work. But I'll never regret them, either.

"To everything there is a season, and a time to every purpose under heaven."•

Click here for more Forefront columns.

__________

Schneider covered Indiana government and politics for The Indianapolis Star for more than 20 years. Send comments to ibjedit@ibj.com.