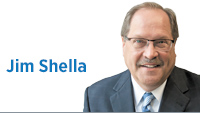 The recent controversy surrounding a corporate responsibility statement read by news anchors at stations owned by the Sinclair Broadcast Group created viral videos. Anchors from around the country parroted propaganda from the home office in Maryland while promising to deliver local content.
It affects you.
Here's why.
First, Sinclair has entered into a deal to purchase the Tribune stations. That includes two in Indianapolis, WXIN-TV Channel 59 and WTTV-TV Channel 4. Once the federal government approves (increasing the number of Sinclair stations from 193 to 230), the Sinclair product will be coming to your home.
Second, it's the latest sign that slanted coverage might be the wave of the future in local broadcasting, much as it is currently in cable news.
To use a print analogy: Remember when you could tell the difference between front-page content and opinion-page content? You can no longer do that on Fox, CNN and MSNBC.
Sure, Sinclair promises to avoid "irresponsible, one-sided stories" in the corporate statement that was a "must-run" for stations it operates. But the statement echoed remarks used by Donald Trump in attacking other media outlets, and you didn't need the president to tweet that Sinclair is "far superior to CNN and even more Fake NBC" to know Sinclair has a record that leans to the right.
The New York Times reported on how Sinclair insisted in 2017 that all its stations run commentaries from a former GOP strategist who accused the national media of running fake news stories. His name is Boris Epshteyn and before he went to Sinclair he worked on the Trump campaign and in the Trump White House.
Sinclair also signed a deal with the Trump campaign in 2016 regarding access and coverage. According to Politico, Trump's son-in-law, Jared Kushner, disclosed the deal, saying Sinclair stations in swing states reached a greater audience than a national network could. There was no agreement with the Clinton campaign.
If you go to ftvlive.com, a website that covers developments in the TV industry, you'll find stories about reporters and former reporters at Sinclair stations who:
◗ Say they are told to avoid stories about the LGBTQ community and to focus on religious angles to stories they do report.
◗ Believe the company to be an "evil empire."
◗ Become disenchanted but are told they cannot quit their jobs without paying a large buyout, even if they are fired.
◗ Are sued for breach of contract for changing careers.
◗ Are told to avoid answering questions from the public and the press.
In 40 years of television news, I never felt management pressure to slant a story.
I heard repeatedly from politicians that the problem with biased reporting was confined to Washington and national media outlets.
That's what makes the Sinclair situation so interesting. Local news anchors come into your living room and tell you what's going on in your neighborhood. In the process, they develop a level of trust that doesn't exist with news personalities on the national channels. 
Now, it seems, some of them are carrying out a corporate political agenda.
My feelings about this would be the same if a television ownership group tried to influence the news from a liberal standpoint. In fact, I fear that might happen soon, if the Sinclair approach proves successful.
TV is a business and local news is its biggest product. The market will continue to pick winners and losers. But viewers need to know that some of the news they see is not, to borrow a phrase, fair and balanced.•
Click here for more Forefront columns.
__________
Shella hosted WFYI's "Indiana Week in Review" for 25 years and covered Indiana politics for WISH-TV for more than three decades. Send comments to ibjedit@ibj.com.
Please enable JavaScript to view this content.