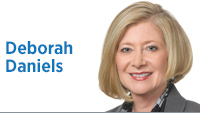 Last month, I described Hoosier humility as both a blessing and a curse for our city and state as we entertain the possibility of bringing in major employers.
Right now, the elephant in that particular living room is Amazon. I discussed the defeatist attitude of some that, "It's just an honor to be considered."
Now, I want to talk about why we should win this competition hands down.
First, we are truly the Crossroads of America. Everyone knows about the intersection of interstates 70 and 65 and other major interstates right here in the heart of Indiana. Based on these strategically located arteries and our location, we are within a one-day drive of 80 percent of the U.S. population. Federal Express has a big hub here, on the grounds of the No. 1 airport in North America—so rated every year from 2012 to 2017—and recently announced a $1.5 billion expansion of that facility. (Amazon prides itself on prompt delivery.)
Over the past 50-plus years, Indianapolis has intentionally and methodically constructed a reputation as having a thriving, livable, walkable, bikeable, culturally rich downtown; being an amateur and professional sports hub with facilities that are the envy of the nation; and serving as a life sciences and tech jobs magnet. (Amazon is looking to attract bright young millennials.)
And over the past 13 years, the state of Indiana has been similarly intentional about creating "the best sandbox" for businesses to thrive. Beginning with the creation of the Indiana Economic Development Corp. and the selection of businesspeople to serve as its president and Indiana's secretary of commerce, the state has consistently focused on business development and consequent job growth.
Through corporate tax cuts, creation of a more business-friendly and collaborative (rather than punitive) regulatory environment, passage of the right-to-work law, and—yes—daylight saving time, we have become a city, region and state that is highly attractive to big business and startups alike. For the first time ever, Indiana attained a AAA credit rating in 2008 and has continued to maintain it. (Amazon is looking for a business-friendly environment.)
By focusing on life sciences and technology, as well as advanced manufacturing, the state has created jobs that pay higher wages but also require more skills than the old manufacturing jobs that will never come back. So a focus on education and workforce development is critical to our success, and those are among Gov. Eric Holcomb's top priorities. We benefit by close proximity to top-notch, post-secondary institutions both within and near the state. In fact, 25 percent of the world's top research and development institutions are within 500 miles. (Amazon will need a well-prepared workforce.)
A few of the accolades we've received in recent years:
◗ No. 1 state in the nation for cost of doing business (CNBC, 2015)
◗ No. 6 state for favorable regulatory environment (Area Development, 2017)
◗ No. 2 best cities for jobs (Money, 2017)
◗ No. 5 city for creating the most tech jobs (Forbes, 2017)
◗ Top 5 cities in the nation for business (Chief Executive, 2016)
◗ Top 8 thriving tech cities (Money Under 30, 2016)
◗ Best cities for women in tech (FastCompany, 2016, 2017)
◗ No. 5 best midsize cities for millennials (Christian Science Monitor, 2016)
◗ Top 10 best cities for young professionals (Forbes, 2016)
◗ Top 5 cities where paycheck will go the furthest (Forbes, 2016)
◗ No. 3 in top 10 best downtowns (Livability.com, 2014)
There's more, but you get the drift. My question is not whether we are a player, but why any of the other finalist cities even have a chance at this prize.•
Click here for more Forefront columns.
__________
Daniels, a partner at Krieg DeVault LLP, is a former U.S. attorney, assistant U.S. attorney general, and president of the Sagamore Institute. Send comments to [email protected]
Please enable JavaScript to view this content.