Construction begins this week on a long-awaited road project in Carmel that will make it easier for 146th Street drivers to access southbound Keystone Parkway.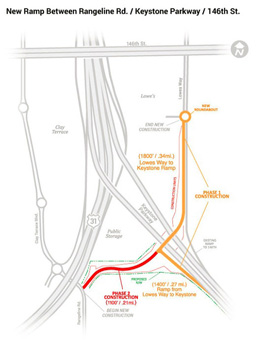 Hamilton County will break ground Friday on the first phase of the Lowes Way connection (click on image at right for larger view).
Frequent drivers in the area may have noticed trees being cut down as site work for the project has already started.
Lowes Way, a north-south running corridor, was built in 2002 as an off ramp for northbound Keystone Parkway traffic to access 146th Street. At the time, a southbound Lowes Way ramp wasn't necessary because drivers were able to access southbound U.S. 31 and Keystone Parkway via Greyhound Pass. Upgrades to U.S. 31 in 2008 eliminated that access, making a Lowes Way connection necessary, officials said.
Since then, county leaders have been working to plan and fund the project, which comes in two phases estimated to cost about $16 million altogether. The project is being paid for by federal funds and money from the local tax increment financing fund.
Phase I, expected to cost $10 million, should be complete by October 2019. It will add a roundabout to Lowes Way near the Lowe's Home Improvement Store—14598 Lowes Way—and extend the road to the south, where a new ramp will allow drivers to merge onto southbound Keystone Parkway.
Phase II, estimated to cost another $6 million, will connect the new ramp to Range Line Road via a roundabout. Now, there's no road connecting Range Line Road to Lowes Way. Plans for that phase are being designed now, and construction isn't expected to begin for three more years.
Hamilton County leaders say the project will make traversing the area near the Clay Terrace mall easier. For years, drivers have had to find alternative ways to get to 146th Street from Keystone Parkway.
"The long and short of it is you can't get there from here," Hamilton County Commissioner Mark Heirbrandt said in a written statement. "For years, motorists have had to find work-arounds to get where they're going. This project will give them a straight shot to southbound Keystone."