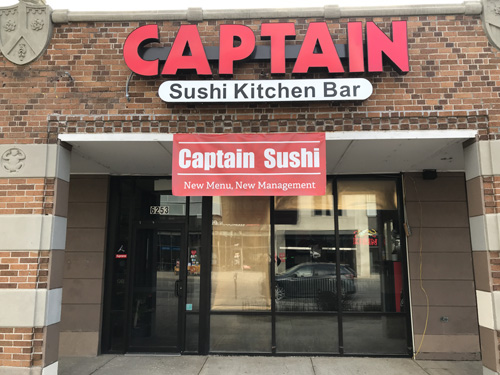 The former Naked Tchopstix restaurant at 6253 N. College Ave. in Broad Ripple has a new owner and a new name—Captain Sushi.
Hua Li of Avon said she purchased the business from its previous owner, Maggie Kim, in February and changed the establishment's name about two weeks ago. The restaurant remained open during the transition, Li said.
The new menu includes sushi, noodle and rice dishes and other Asian fare—not too much different from what Naked Tchopstix served, Li said.
The Broad Ripple site was the original location for Naked Tchopstix, which was established in 2004 by Maggie and David Lee, who had opened Bistro Tchopstix a year earlier at 251 N. Illinois St.
Maggie Kim (formerly Lee) could not be reached for comment on the sale.
Li also owns Hirosaki, a Japanese restaurant in Avon that she opened in 2016.
Li said she liked the College Avenue location in part because of the population density of the area.
"Broad Ripple is a very popular place," she said. "They have a lot of young people."
Meanwhile, a Naked Tchopstix restaurant at 96th Street and Keystone Avenue remains in operation. The owner of that location is David Lee.
Naked Tchopstix also operates a location in Fort Wayne.
At one time, Naked Tchopstix had several other locations, including downtown Indianapolis; Indianapolis International Airport; the Fashion Mall at Keystone; Greenwood Park Mall; Hoosier Park Racing & Casino in Anderson; and in the Cincinnati suburb of Newport, Kentucky. Those have all since closed. 
Please enable JavaScript to view this content.