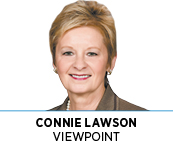 It's no secret that starting and managing a business can be a monumental undertaking. With today's business climate constantly evolving—and technology advancing exponentially—it is imperative for Indiana businesses to focus their time and resources on core operations and growth, not cumbersome administrative paperwork.

As Indiana's secretary of state, my responsibilities include the chartering of new businesses. Traditionally, the process for businesses to register and maintain compliance was difficult to navigate and often time-consuming.

In 2016, the state changed the game by launching INBiz, which allows business owners to register and manage their business online by interacting with multiple state agencies, including the Department of Workforce Development, Department of Revenue, Indiana Professional Licensing Agency and the Office of the Indiana Secretary of State.

This online portal provides a user-focused experience that's gaining national attention. Last year, the Center for Digital Government, a national research organization focused on information-technology policies and best practices in state and local government, awarded INBiz the 2017 Government-to-Business Experience Award.

To date, more than 277,000 users have registered and managed their business on the site. However, up to this point, INBiz facilitated only transactions required for state government.

Our vision has always been for INBiz to serve as a one-stop resource. Earlier this year, we moved closer to that goal with our first municipal partnership. Business owners in Greenwood will soon be able to do both their state and local government filings—executing such functions as business registration, building permit applications and licensing obligations—all online.

Recently, I was pleased to join Greenwood Mayor Mark W. Myers, Greater Greenwood Chamber of Commerce President Christian Maslowski and local entrepreneur Brent Tilson to announce details of the partnership.

It is no surprise that Greenwood is leading the way to deliver business-friendly services and facilitate more efficient economic development. Myers often refers to the south side's business resurgence, which is being driven in large part by proactive strategies and initiatives to improve the way government interacts with current and potential businesses.

Greenwood's vision seeks to eliminate as many unnecessary barriers as possible, paving the least-resistant path for business growth, expansion and attraction.

New companies are a critical component of Indiana's current and future economic prospects, and my mission as secretary of state includes doing everything I can to create a welcoming and supportive environment.

More than a decade ago, Indiana became a leader in business services when it began offering an online filing system. Today, INBiz modernizes that system and enables businesses to open their doors faster.

The partnership with Greenwood is just the beginning as we continue to expand INBiz services. This includes both localization through additional municipal partnerships and expanded integration with other state agencies.

Working together, we will continue to build upon Indiana's reputation as a business-focused state.•

__________

Connie Lawson is the secretary of state of Indiana.