Republican U.S. Reps. Luke Messer and Todd Rokita and former Republican state lawmaker Mike Braun are fighting to take on Democratic incumbent Joe Donnelly in the fall to become Indiana's next U.S. Senator. IBJ spent time with all three GOP candidates to learn more about their personalities and backgrounds. Next week, IBJ will detail where each candidate stands on key issues facing Congress, like taxes, immigration and education.
"When I was a young kid, I was always sort of fascinated because my grandmother was so involved [with politics]. But I wasn't somebody who knew I'd run for office or anything like that until much later."
Someone once told Luke Messer if he ever became president, his Secret Service name would be "Pizza King."

The Republican congressman doesn't argue with the suggestion. He loves Pizza King.

"There was a time when I would probably eat Pizza King four or five times a week," Messer said.

One of his favorite Pizza Kings is in Greensburg, where the 49-year-old grew up.

"They're not all the same," he said. "That's for sure."

Messer and his brother, who is less than two years younger, were raised by a single mom who worked at the Delta Faucet Co. factory in Greensburg until she recently retired.

The family shuffled around from rental home to rental home, sometimes moving less than a mile away. They never owned a home.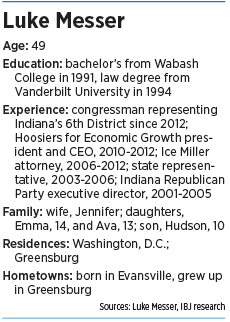 "The most remarkable thing about my family is that, in America, the story is not remarkable at all," Messer said.

After Messer graduated from Greensburg Community High School in 1987, he attended Wabash College and then went to law school at Vanderbilt University.

Messer had an interest in politics from a young age, because his grandmother served as secretary of the Marion County GOP, but running for Congress was not his goal.

"When I was a young kid, I was always sort of fascinated by politics because my grandmother was so involved," he said. "But I wasn't somebody who knew I'd run for office or anything like that until much later."

In his 20s, Messer started volunteering for campaigns and went on to work for Republican U.S. Reps. David McIntosh and Dan Burton in Washington, D.C.

When McIntosh decided to run for governor in 2000, Messer decided to run for McIntosh's seat in Congress, but he lost in the primary to now-Vice President Mike Pence.

Messer jokes about that campaign now and remembers when the Pence team released results from a poll that said Messer had 2 percent name recognition.

"They must have talked to my mother and brother, because I'm not sure there were even two people who knew me," he said.

But after that campaign, Messer remained friends with Pence and his family. Pence's brother, Greg Pence, initially served as Messer's fundraising chairman before deciding to run for Messer's congressional seat. Greg Pence and Messer have campaigned together throughout the state.

In 2001, Messer became executive director of the state GOP.

And in 2003, his political involvement grew even more when he was appointed to serve the rest of Republican state Rep. W. Roland Stine's term after Stine was killed in a car accident. Messer won re-election in 2004, but did not run in 2006.

Former Republican state senator and GOP Chairman Murray Clark said Messer was a key legislator that Mitch Daniels turned to during his early days as governor.

"That beginning period can be really difficult," Clark said. "And Luke was one of the people that really helped the governor navigate it."

After his three-year stint at the Statehouse, Messer went to work for Ice Miller's lobbying division. Messer said he had young children at the time, so he thought it was the best choice for his family.

He said at the time he wasn't sure if he'd go back into politics, but that changed in 2010, after he became frustrated with President Barack Obama.

Messer ran in a crowded Republican field to challenge Burton in Indiana's 5th District, and he narrowly lost the race.

Two years later, Messer's Shelbyville home had been moved into the 6th District as part of redistricting. He successfully ran for that seat, which was being vacated by Mike Pence, who was running for governor.

Almost immediately after winning the seat in Congress, Messer and his family moved to Washington, D.C.—a move his opponents are trying to use against him during the primary.

Messer grew up without a father, and he said he didn't want that to happen to his kids. He wanted to coach their basketball teams and attend their concerts.

"My opponents think somehow that's going to cost me the election, and if it does, I won't regret it," he said. "But I don't think it will."

Messer said serving in Congress and meeting world leaders—including the president, the pope and Israeli Prime Minister Benjamin Netanyahu—have been great honors. But, he added, "it's an even bigger honor to be a dad."

Messer said he's back in Indiana every week to 10 days, and even more so during the middle of a campaign.

During campaign stops, Messer is casual. On a day in March with nearly 10 stops, he wore New Balance sneakers and talked about his son's basketball team. (Messer recently won a "Coach of the Year" award and is quite proud of it.)

But he keeps his remarks brief during the meet-and-greet events, giving voters enough time to ask questions and voice their concerns on topics like immigration, federal spending and infrastructure.

Hamilton County Commissioner Mark Heirbrandt, who is supporting Messer in the primary, said that's a trait that stood out to him.

"He was somebody I could pick up the phone, and he'd always answer," Heirbrandt said. "He'd talk to me, and he'd listen."•
#Read the profile of Mike Braun