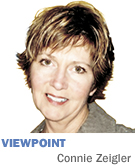 Downtown Indianapolis has a housing problem. I am not referring to the abandoned and foreclosed homes that blight many of
our neighborhoods. This is a problem of new, prominent construction projects that are out of place in our built environment.
I work as an architectural historian and am keenly aware that buildings have a huge and lasting impact on a city.
I am also an aficionado of good modern design who thinks new buildings should be stylish and well-designed avatars of the
21st century.
Unfortunately, two of downtown's recent, large-scale residential projects, the Villagio and
3 Mass condos, will represent our times to future historians as being out of context, scale and proportion with their neighborhoods.
Massive buildings don't dissipate over time. They can mar a city for centuries.
If you haven't seen
the nine-story box called the Villagio, you should. Drive south on Virginia Avenue as you pass it so you get the full effect
of the off-kilter concrete parking garage at the rear, as well. And if you think the front of the building is unattractive,
take a gander at the rear. The developers snubbed their noses at three historic neighborhoods—Fletcher Place, Holy Rosary
and Fountain Square—with this manila-colored blank wall blocking the view of downtown.
A building that looks
like a time-share on the beach of Panama City, Fla., is inappropriate at this prominent gateway to the beautiful residential
architecture of Fletcher Place and the bohemian-tinged Fountain Square. This is a big, clunky cube plunked awkwardly on a
triangular tract of land. The square footprint defies the logic of the flatiron shape our clever ancestors fit so perfectly
onto city lots such as this one.
Another residential project still under construction is also shaping up as an
architectural blunder. The 3 Mass condos in the 300 block of Massachusetts Avenue are a good idea gone wrong. While the concept
of filling a surface parking lot with a mixed-use condo/commercial unit is commendable, the actual building isn't. From
the corner of New York and Delaware streets, the disturbing juxtaposition of its bulk pushed up against the beautiful flatiron
building in front of it conjures up the image of a whale about to swallow a tuna.
On Massachusetts Avenue, the
heavy brick façade overwhelms the comparatively small-scale and elegant historic buildings that are its neighbors.
3 Mass is out of context in this charming historic district. An attractive modern design of appropriate scale and proportion
could have worked well at this spot, but this doesn't.
To be balanced, it should be said that both 3 Mass
and the Villagio would probably be great places to live, from the inside. Villagio's height gives it commanding views
and 3 Mass' wall of windows overlooking Delaware Street would make that interior space bright and appealing.
There is reason to be hopeful there won't be other Villagios or 3 Masses in our future. The latter rushed into construction
before Massachusetts Avenue was designated as part of a local historic district, which would now require design review by
the Indianapolis Historic Preservation Commission. And in 2008, after Villagio and 3 Mass had been approved, the city instituted
new urban design guidelines. These guidelines are intended to "set standards that will produce a more thoughtful design
response to regional center development projects." That thoughtful-design response was sorely needed in these two projects.
Buildings are important in how we view ourselves as a people and a city. If Indianapolis is to become the "world-class"
city we hear so much about, we can only hope these new guidelines will prevent such mistakes in the future.•
__________
Zeigler is president and owner of C Resources Inc., a local business that preserves historic properties.
Please enable JavaScript to view this content.