Should the government require companies to offer paid parental leave?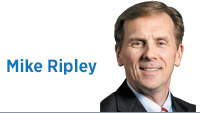 I'm a father of seven and can recall the wonderful and overwhelming emotions when a newborn comes into your life. There is no disputing the impact and importance of family.

The debate is over whether government can compel private-sector employers to do something that might put their business at risk—and that's not an exaggeration.

In January, Gov. Eric Holcomb signed an executive order establishing paid parental leave for state employees, making Indiana the eighth state to do so. That was his right, but it shouldn't be seen as a prelude to putting the same obligation on the private sector.

Paid parental leave for births or adoptions might be ideal, but it's not practical as a broad requirement.

The Indiana Chamber of Commerce, through a policy determined by its members, has a long-standing position against such employer mandates. That's because they come with a cost, and for some employers that cost would be too detrimental and ultimately could jeopardize jobs, or wage levels at the very least.
Past legislative efforts led by the Indiana Institute for Working Families and other paid-leave proponents have wanted to cast a wide net—putting the same order on a tiny firm as on a major employer. That's dangerous and will yield undesired consequences.

Let's take a small business with 10 or fewer full-time workers. The impact of having just one employee out on parental leave is often significant—especially financially if it is now paying both the person on leave and someone else to temporarily fill those duties. That's why paid parental leave needs to remain voluntary for employers.

That said, the Indiana Chamber and an increasing number of businesses we represent (and those we don't) already have parental leave policies in place. Yes, some are unpaid, but the trend is definitely going to a paid model, with the allotted time off often four to six weeks (aligning with the Family and Medical Leave Act guidelines).

On May 3, the Indiana Chamber will honor a record 125 businesses as Best Places to Work in Indiana. Over the 13 years we've been managing the program, paid parental or family leave has become a more frequent common denominator among the winners. And we think that's great!

By and large, today's employers want to do what's right by their employees and they correctly view them as their biggest asset. And we encourage employers who are able to offer paid parental leave to do so.

But the economic realities also have to figure into the equation, along with what benefits can be offered that impact the most people. It can be a juggling act and one each company is uniquely positioned to know how to best handle.

Simply put, some decisions must be left up to individual employers. Offering paid parental leave falls into this category.•

Click here for more Forefront columns.

__________

Mike Ripley is vice president of health care policy and employment law at the Indiana Chamber of Commerce. Send comments to ibjedit@ibj.com.