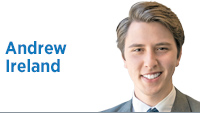 Pundits took to Twitter last month, deriding Sinclair Broadcast Group for its coordinated promotions on truth and media bias. Stone throwers in glass houses, these partisans are ignoring a darker trend in local news.
Here in middle America, there exists a palpable disgust with fake news, hyper-partisanship and the politicization of even the most mundane topics by the press. I can't help but feel we are missing the bigger story.
What really concerns me—and what should concern every American—is the gripping decay of hard-hitting local journalism.
In school, learned faculty teach the values of newsworthiness: a shorthand for what generates viewership and ultimately advertising revenue. An indefinite list, these values include timeliness, impact, proximity, conflict and human interest.
The iconic quip, "If it bleeds, it leads" continues to dominate local journalism. Yet, too often, the most important tenets of storytelling—depth, accuracy and context—go by the wayside.
Notably, local broadcasters consistently outperform national cable and broadcast news stations in viewership and trustworthiness. Similar patronage is seen with hometown papers and their competitors. Unfortunately, this is less a ringing endorsement of the quality of local outlets than a rebuke of technicolor punditry and slanted newsprint.
In truth, while local legacy ventures have carved out and preserved sizable audiences in a digital age, their work product has dropped precipitously. More than political bias—a worthy but seemingly less critical concern—these outlets are practicing bad journalism.
I see it firsthand every day. As a student, I have built a successful company running press shops and fielding communications work for political clients all over the country. This often requires fostering relationships with local journalists and broadcasters.
In my experience, this problem with bad journalism is more than a localized issue, but is true across the board. This is partly due to a lack of basic fact-checking and oversight. Some outlets print blatantly false and easily discernible misinformation—not out of malice but out of ignorance and apathy.
Others sit on stories because they require modest legwork: interviews, travel and the like.
Conversely, these outlets regularly reprint press releases in full. No editing, no interviews, no research—just a cheap medium for an unfiltered message. As a rule of thumb, if you want a story to run, write it out word for word.
Ditching hard news for evergreen stories and high school sports, local outlets have simply outsourced their investigative responsibilities to town gossip and alternative media.
Of course, this is not to say every paper and news station suffers from this dilemma. Many continue to be active in their communities and their leadership deserves a great deal of credit. But this phenomenon is increasingly common.
Given the significant influence local outlets wield, we should all be wary.
Small-town, legacy journalists should be watchdogs acting in the public interest. Embracing their role as the Fourth Estate, they should be a force for good. Instead, too many outlets have shed their commitment to real journalism to chase declining ratings and ad revenue.
Local journalism needs a revolution and it must start in the newsroom. Industry and scholars recognize the decay of hard-hitting local journalism, but wholly attribute it to declining revenue. To an extent, it is simple economics, but this financial reality does not discount ill discipline and recalcitrant leadership.
Tackling fake news and media bias is an important goal. But it is time to have a broader conversation about the decay of local journalism and what can be done to combat it.•
Click here for more Forefront columns.
__________
Ireland is a Robel Scholar at Indiana University's Michael S. Maurer School of Law and a digital media consultant. Send comments on this column to [email protected]
Please enable JavaScript to view this content.