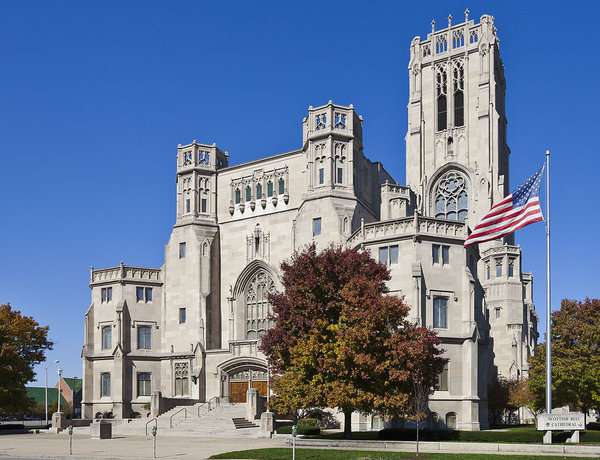 The Scottish Rite Cathedral in Indianapolis has long been recognized as one of the state's most beautiful historic buildings. Apparently, its appeal isn't limited to Indiana.
Popular travel website TripAdvisor on Tuesday said it has included the landmark at 650 N. Meridian St. on its list of "America's 20 Most Beautiful Churches, Cathedrals & Basilicas Worth Visiting."
"Though not exactly a cathedral in the traditional sense of the word (it does not have a church or altar), the Scottish Rite Cathedral in Indianapolis still makes the cut as one of the most beautiful cathedrals in the country for its fine Neo-Gothic architecture and its designation as a gathering place for members of the Scottish Rite, a branch of Freemasons," TripAdvisor said in its description of the building.
Designed by architect George F. Schreiber, the Scottish Rite Cathedral was built from 1927 to 1929 at the cost of $2.5 million. The property is owned by the Valley of Indianapolis Scottish Rite, an affiliate of Freemasonry.
In a 1996 poll of real estate favorites, IBJ found the cathedral to be the most popular historic building in the city, and the second favorite building of any type.
The cathedral offers free tours Tuesdays through Fridays from 10 a.m. to 2 p.m. on the hour. As many as 100,000 people tour the property each year. Access is otherwise limited.
Landmarks on TripAdvisor's list aren't ranked. Among the other selections were Washington National Cathedral in Washington, D.C.;  St. Louis Cathedral in New Orleans; Cathedral Basilica of Saint Louis in St. Louis, Missouri; Grace Cathedral in San Francisco; St. Patricks' Cathedral and Trinity Church in New York City; Trinity Church in Boston; and Cathedral of St. Helena in Montana.
 
Please enable JavaScript to view this content.