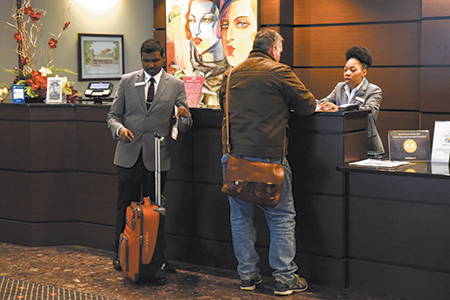 Visit Indy's quest for a new downtown mega-hotel isn't driven just by its need to satisfy conventioneers' growing demand for hotel space.
The tourism-and-convention organization has another motivation: It wants the operator of the new hotel to use its sales-and-marketing firepower to substantially boost the overall size of the downtown hotel market.
A study commissioned by the organization says officials are counting on the hotel to generate nearly half its business without relying on conventions. That's in stark contrast to the smaller hotels proliferating across downtown, which largely cannibalize other hotels, the study found.
That's just one of several interesting tidbits in the analysis from Long Island, New York-based HVS Global Hospitality Services. It also reveals that officials are concerned the city is starting to stack up poorly compared with rivals in the number of hotel rooms within a half mile of the Indiana Convention Center.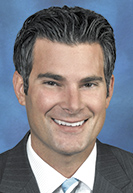 Gahl
Visit Indy Vice President Chris Gahl said another hotel would bolster key hospitality indicators downtown.
"This rising tide will lift all ships with an anticipated spike in not only occupancy and demand, but the average daily room rate and revenue per available room," he said.
A "request for information" that the city's Capital Improvement Board issued in January specified the hotel should have 800 to 1,000 rooms and be adjacent to the convention center or accessible to it via weather-protected and climate-controlled pedestrian access. A project of that magnitude would be larger than all Indianapolis hotels except the 1,004-room JW Marriott.
The RFI went to 40 local and national firms, but just three developers responded by the March 1 deadline. CIB so far has not revealed their names or what they propose. A hospitality industry consultant said a hotel of the scale sought by CIB might cost as much as $350 million.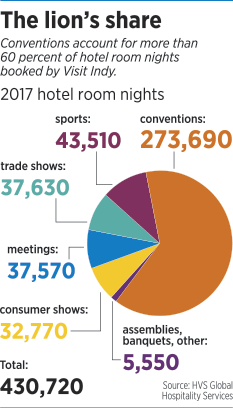 The HVS report says the downtown market could absorb an 800-room hotel if the project were accompanied by construction of a 45,000- to 60,000-square-foot ballroom. The ballroom could be part of the hotel project or built elsewhere adjacent to the convention center.
The HVS study buoys the optimism of Visit Indy officials that downtown can support another major hotel. It projects that room nights booked by Visit Indy will increase 14 percent from 2016 to 2022 before the growth levels off at nearly 500,000 room nights in the final year of that study.
HVS' study estimates that a dual-brand hotel's local and national sales teams could generate up to 45 percent of the hotel's own business, outside of conventions booked by Visit Indy.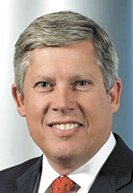 Ray
Hotels typically bring in their own business through sales staffs' booking smaller meetings and conventions that use rooms and meeting space only in the hotel, in addition to weddings and other events.
Expecting a mega-hotel to generate nearly half its own business is standard in the industry and roughly on par with what the JW Marriott produces, said Phil Ray, the hotel's general manager.
"It's not crazy at all," he said of Visit Indy's expectations. "The more self-contained business you can do, the more successful you'll be."
New business a hotel books ideally should not be spillover from already-scheduled events, said Ray, reinforcing industry numbers showing smaller hotels bring little new business to a market.
Close to the action
The RFI says convention officials want the new hotel to be within a half mile of the convention center. Indianapolis has 6,912 hotel rooms within a half mile of its convention center, placing it 26th out of 29 cities, according to Visit Indy research.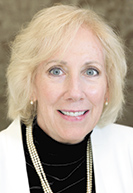 Locklear
Cities such as Boston, Charlotte, Chicago, Cincinnati, Dallas, Denver, Milwaukee, Minneapolis, Pittsburgh and St. Louis all rank higher, which "further validates the research we've conducted," Gahl said.
Debbie Locklear, president of locally based Meeting Services Unlimited Inc., which represents several national clients, said adding a large hotel to the inventory of rooms near the convention center "would be a big boost to the city."
For larger conventions, Locklear has resorted to booking hotels at Keystone at the Crossing on the north side to accommodate some clients, adding costly shuttle service to the expense, she said.
"We have a great hotel package the way it is now," she said, "but adding another hotel of this magnitude would put us in another arena."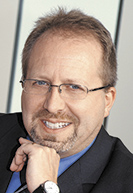 Ebener
The RFI notes that the only publicly owned properties close enough to the convention center are surface lots north and south of Lucas Oil Stadium—which is connected to the convention center via a climate-controlled tunnel—and Circle Centre's World of Wonders parking garage, which stretches from Georgia to Maryland streets along Illinois Street.
Real estate observers say that, unless a hotel tower could be constructed on top of the World of Wonders garage, at least part of the structure would need to be demolished to make way for a hotel. Eliminating the entire eight-floor garage would wipe out 1,500 parking spaces and a row of prominent restaurants, including Steak n Shake to the north and Mikado to the south.
Besides the publicly owned properties, the privately owned Pan Am Plaza also jumps out as a prime location, real estate observers say.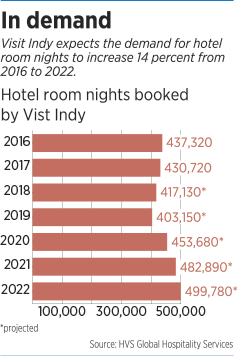 Dirk Ebener, CEO of Georgia-based trade show management firm Global CIF, said he had to seek out a hotel on the south side to accommodate some of the approximately 10,000 visitors to the April 9-12 American Coatings Show and Conference.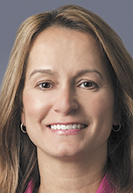 Kennedy
"More larger properties downtown would definitely be another selling point for Indianapolis," Ebener said.
Downtown hotel occupancy has been hovering above 70 percent since the JW Marriott debuted in 2011, and stood at 72.3 percent at the end of 2017, according to the latest report from CBRE Hotels. That's stronger than downtown's 64 percent occupancy before the JW Marriott opened and enough to draw "significant interest for development," Gahl said.
CIB President Melina Kennedy said that, over the next few months, CIB would be exploring the three proposals submitted by developers.
Revenue stream
Landing another downtown hotel also would help CIB generate more revenue.
The organization receives the majority (7 percent) of the 10 percent county innkeepers tax, which is expected to generate $27.5 million of CIB's estimated 2018 revenue of $130.3 million.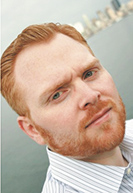 Theis
In contrast, the tax does not apply to hotels built outside Marion County, where much of the region's hotel-development activity is occurring.
The growth in hotels, even in the surrounding counties, is good for the region and Marion County, to give visitors more options, Kennedy said. But what CIB is seeking for downtown is far from what can be found in the suburbs.
"The main conventions we have our eye on, for purposes of this hotel, are the Gen Con type—the major, major 60,000-visitor-type conventions," she said.
Gen Con attendees cite in surveys the need for more rooms as their top request, said Jake Theis, Gen Con's marketing director.
"Simply put, adding new hotels would give us the freedom to increase our attendance as well as offer more gaming," he said.•
Please enable JavaScript to view this content.