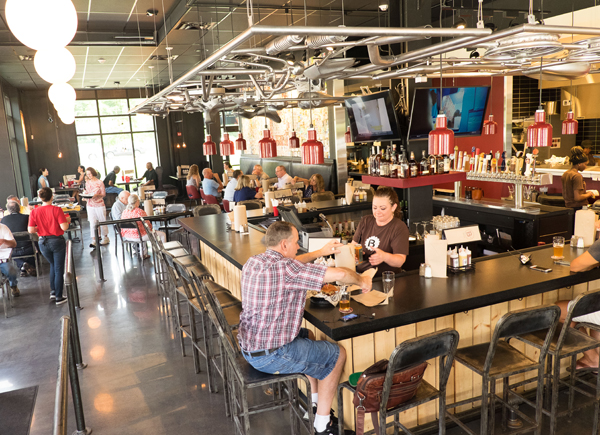 B Spot, a burger concept created by celebrity chef Michael Symon, has closed its north-side Indianapolis restaurant.
The eatery opened in July 2015 as a retail tenant of the Ironworks at Keystone, a Hendricks Commercial Properties development at 2727 E. 86th St.
The establishment closed abruptly on Monday, and workers began removing items from the space, said Hendricks Vice President of Asset Management Isaac Bamgbose. "It is a permanent closing. It's something that's a surprise to us."
Bamgbose said Hendricks intends to fill the spot with another restaurant tenant, and he has already started to receive queries from interested parties. He declined to name them.
"We are working on re-tenanting that space as we speak," he said.
As of Tuesday morning, B Spot's Indianapolis location was no longer listed on the company's website. Its current locations include four stores in Ohio (three in the Cleveland area and one in the Columbus area) and two in the Detroit area.
A phone message left at the office of Becca, the publicist agency that represents Symon, was not immediately returned.
Symon created the B Spot concept with a menu built around B-named food items such as burgers, bologna, brats, bourbon and beer.
Symon has appeared on several Food Network programs, including serving as host for both "Food Feuds" and "Cook Like an Iron Chef," as a judge of "The Next Iron Chef" and as a competitor on "Iron Chef America."
B Spot was Symon's only Indiana location. He also has several other restaurant and bar concepts, including Lola Bistro and Mabel's BBQ, both in Cleveland; Angeline, in the Borgata Hotel, Casino and Spa in Atlantic City, New Jersey; Roast, a meat-focused restaurant in Detroit; and Bar Symon, an airport eatery and tap room with locations at Pittsburgh International Airport and in Dulles International Airport in metro Washington, D.C.
B Spot was part of a wave of mid-priced, full-service restaurants specializing in high-end hamburgers that has swept across Indianapolis over the last several years.
Similar eateries in central Indiana include locally based Bru Burger Bar, which has three Indianapolis-area locations; Burger Study, a concept developed by the owner of St. Elmo Steak House; Kuma's Corner, a chain that started in Chicago; BurgerFuel, a New Zealand-based chain that opened its first American location in Broad Ripple; and Burgerhaus, founded in Valparaiso by father-son team Jon and Evan Costas.
IBJ's review of B Spot in 2015 said the restaurant "stands on its own merits, whether or not you know it's part of the restaurant empire of Michael Symon."
Please enable JavaScript to view this content.