Indianapolis has never really been a spot for celebrity-chef-branded restaurants. Oh, we danced with Wolfgang Puck a bit when he set up shop at the Indianapolis Museum of Art, and there's a growing interest in local chefs' doing interesting things. But for the most part, big names haven't set up shop here.

Which is why I'm pleased that the new B Spot (2727 E. 86th St., 802-7678), tucked away at Ironworks on the southwest corner of Keystone Avenue and 86th Street, stands on its own merits, whether or not you know it's part of the restaurant empire of Michael Symon.

Boosted to foodie stardom after winning Food Network's "The Next Iron Chef," Symon has become a regular on TV cooking and chat shows, including ABC's "The Chew." And when looking to extend his ring of B Spots from Cleveland, Detroit and Columbus, Indianapolis seemed a prime candidate.

The proof, as always, should be on the plate, not on the signage, since on an average day you won't see Symon here, except on the cover of the cookbooks sold at the hostess stand.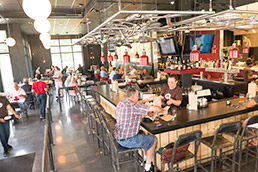 B Spot's casual atmosphere includes a central bar. (IBJ Photo/ Eric Learned)
What you will see is a casual hamburger joint with garage-door sides that open up for a view of … the parking lot. It's got a central bar, a wall of beer cans, and a help-yourself cart featuring a range of pickled goodies, including kimchi and pickled green tomatoes.

We found a happy place early on with an order of Porky Fries ($8.99). Potatoes cut to about McD's length and thickness were cooked crisp on the outside/fleshy on the inside and topped with delicious strands of pulled pork, supplemented with Cheese Whiz and pickled chiles. There were enough for three or four people to share, but our two-top took care of them, nonetheless. (Avoiding pork? Then go with Lola Fries ($3.99), where rosemary offers just the right amount of memorable variance without losing the fries' raison d'etre.)

You can build your own burger ($7.99 plus toppings ranging from 99 cents to $1.99), but what's the point of having a chef-crafted menu if you are going to do that? I trusted Symon's surrogates and ordered the Yo! ($10.49), where hot peppers, provolone and his signature tangy shasha sauce nicely augmented a meaty burger topped with fried salami and capicola. The Lola ($10.99) crowned a bacon, pickled red onion and cheddar cheese burger with a sunny-side-up egg.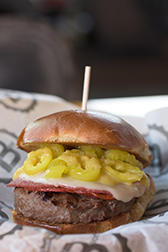 The burgers are thick and the toppings smartly chosen at B Spot. Fried salami and capicola augment the Yo! burger. (IBJ Photo/ Eric Learned)
During another visit, the New Jack City ($10.99) sparked interest by blending avocado with chorizo. All of these were messy and flavorful enough that the six squirtable condiments on the table—including coffee barbecue ketchup, ballpark mustard and Lola ketchup—ended up primarily used for fry dipping.

The B in B Spot doesn't just stand for burger. There are also bologna sandwiches and brats, which for me will have to wait until next time. It's an alphabetical stretch, but the B also covers Bad A** Shakes, which can be downed straight up ($5.99 to $6.99) or with a shot of alcohol ($3) dropped in. The shot varies, which means you'll get a vanilla vodka shot with your Root Beer Float but dark rum in your Chocolate Banana Marshmallow Shake.

Anybody have a bromo?•

—Lou Harry