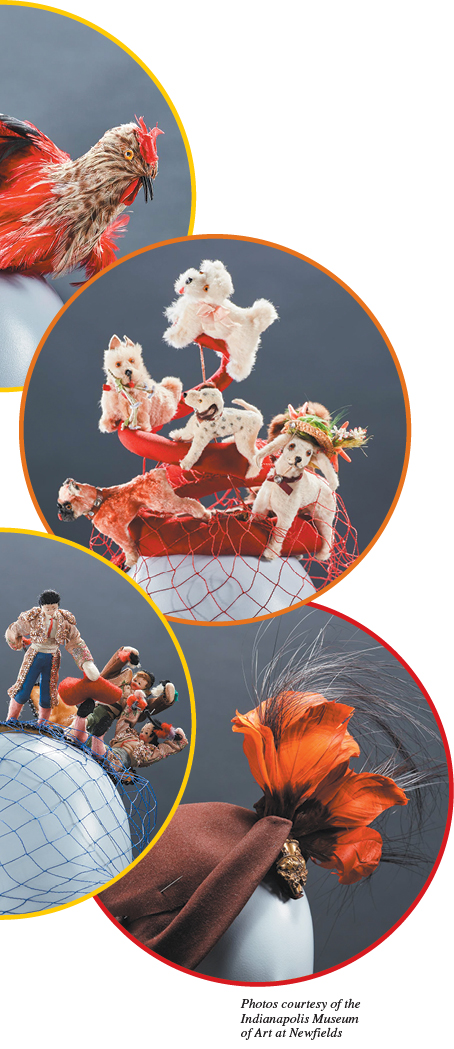 They called him "The Mad Hatter of Chicago." From his shop at 938 N. Michigan Ave., Benjamin Green-Field turned feathers, flowers, jewels, plastic fruits, vegetables and so much more into hats commissioned and worn by the rich and famous in the 1940s and 1950s.
Bes-Ben hats, as his creations were known, were an unusual combination of headwear, fashion statement and art. And now, 60 of Green-Field's most whimsical works are on display at Newfields.
"Think of them as sculptures because they are truly unique," said Niloo Paydar, Newfields' curator of textile and fashion arts. "Because they were made by hand and made of different materials, there are no two that are identical. That makes it art. This creativity and this ingenuity is quite amazing."
When the owner of the Chicago White Sox wanted a hat, Green-Field created one adorned with leaves and tiny baseballs. A socialite named Hanchen Stern needed a hat for an event called Time for Giving; Green-Field devised one covered in little clocks. Famed gossip columnist Hedda Hopper was attending the premiere of the movie "The Razor's Edge," so he made her a hat with little razors.
Think of a table centerpiece and you have some idea of what a Bes-Ben hat looks like. Dogs with slippers, a bejeweled cone, an apple tree, yellow PVC tubing in the shape of a beehive—they're all on display.
The written narrative at the entrance to the exhibit says Green-Field started out in 1919 with $500 and the help of his sister Bessie (the "Bes" in Bes-Ben). Initially, they made conventional hats. He created his first "silly" hat in 1941, his hand forced by restrictions on the use of wool and silk during World War II. At his height, Green-Field had five shops. He became a multimillionaire and led "a sumptuous life filled with world travel and collecting," according to his bio.
Paydar said Newfields began acquiring Bes-Ben hats in 1975; the first ones had belonged to Mrs. William H. Ball, wife of one of the Ball brothers. In 2006, the Benjamin B. Green-Field Foundation gave the museum money to acquire more hats. Six others are on loan from the Chicago History Museum.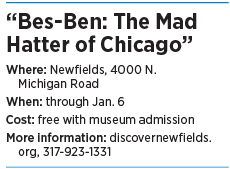 In the past, Newfields has displayed six or seven Bes-Ben hats, but this is the first time the museum has devoted an entire exhibit to Green-Field's work. The difficulty in putting together an exhibit of this kind, Paydar said, is where to stop. How many pieces do you display?
"We have a lot more in storage," she said. "What I decided to use were the most unusual ones. We chose these that really conveyed his creativity and his drama."
The exhibit includes photos of Green-Field and his sister, as well as people wearing the hats. There's also a portion devoted to Green-Field's early-morning sale. At the end of summer, before he left for vacation, Green-Field would have a midnight sale. Hats that didn't sell would be tossed to a gleeful crowd at 2 a.m.
Back in the day, Bes-Ben hats sold for $37.75 to $1,000, depending on the material, and they were worn by the stars like Marlene Dietrich, Elizabeth Taylor, Lucille Ball, Carol Channing, Judy Garland, Gracie Allen and Phyllis Diller. Today, you can find the hats selling on eBay from $175-$750, depending on condition. One, called Independence Day, sold for more than $18,000 at auction.
It's hard to imagine anyone wearing a Bes-Ben hat today, partly because they're collectibles, but also because, well, they're so incredibly of their time.
But maybe not. When asked if she would wear one, Paydar answered immediately.
"I would love to," she said, laughing. "Of course."•
 
Please enable JavaScript to view this content.