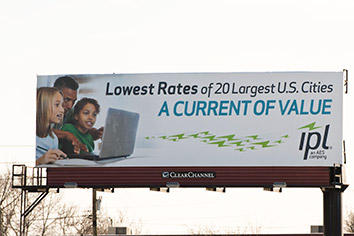 A group of Indianapolis City-County Council members are teaming up to voice their opposition to Indianapolis Power & Light Co.'s requested rate increase.
Eight of the body's 25 members, including Council President Vop Osili, will submit public comments opposing the hike on Monday night at a public hearing before the Indiana Utility Regulatory Commission.
The council members, who say the rate increase will be too burdensome on the city's poor population, have also planned to voice their opposition at a 4 p.m. press conference at the City Market.
Democrat Jared Evans said the council members are hoping to "raise awareness" about the issue and persuade the IURC, which expects to rule on IPL's rate-request case by the end of the year, to drastically reduce the amount the utility can boost its rates, "if they don't decline this altogether."
Monday's IURC meeting is last planned public hearing on the rate request.
IPL is seeking permission to increase its fixed charge on its 490,000 customers by 59 percent—from $17 to $27 per month. All customers pay the fixed charge, regardless of how much electricity they use. The utility also wants to increase its energy charge, which is based on the actual volume of electricity consumers use.
That could raise rates on a typical residential customer who now pays about $113 a month by $11.50, or 10 percent.
The rate increase could mean an additional $96.7 million in revenue per year for IPL, which the utility says it needs to pay for various capital improvements and environmental programs.
But the council members say the burden is too great on the city's residents. The council members opposing the rate increase are Democrats Evans, Osili, Zach Adamson, Frank Mascari, Monroe Gray, Maggie Lewis, Joe Simpson and William "Duke" Oliver.
"They're doing it on the backs of Indianapolis residents," Evans told IBJ. "We've seen the poverty rate really increase in the city. As their elected officials, I believe we have a responsibility to step up and speak on their behalf."
Evans also said the proposal to raise the fixed charge was particularly problematic.
"That unfairly impacts people who are investing in their homes, windows and roofs to weather-proof their homes" and make them more energy-efficient, Evans said.
The city is not legally intervening in the process as it had done in 2015 against another IPL rate hike request. At that time, according to city spokeswoman Aliya Wishner, the city intervened "to advocate that IPL provide the city [and other customers] access to LED technology and the energy- and cost-savings associated with that technology."
As part of its new streetlight contract with IPL to update more than 27,000 existing streetlights with LED technology, the city agreed not to legally intervene in the current case.
However, city officials say that the mayor and other representatives are not restricted from speaking out against the rate increase and are encouraging taxpayers to get involved.
"This year's rate case for all IPL customers is critically important, and the proposed rate increases are concerning in their size and scope," Wishner said.
"That is why we are focused on urging Indianapolis residents to get educated and engaged with the state-led IURC process," she said. "There is a broad coalition that has come together to advocate on behalf of consumers and the environment in this current rate case, and we remain confident that the interests of residents will be well-represented in the state-led IURC process. We will continue to use the bully pulpit as an administration to educate and engage residents in this critical discussion."
The public hearing Monday night is set for 6 p.m. at the New Augusta Public Academy North, at 6450 Rodebaugh Road in Indianapolis.
Please enable JavaScript to view this content.