Even if you shut off your lights every time you leave the room and rarely crank up the air-conditioning, get ready to see an increase in your monthly bill from Indianapolis Power & Light Co.

The utility, which is going through a huge reorganization under parent AES Corp., is asking state regulators for permission to increase the "fixed charge" on its 490,000 customers by 59 percent—from $17 to $27 a month—whether they ever switch on a light or plug in a cord.

IPL also wants to increase the "energy charge"—which is based on the actual volume of electricity customers use, measured by kilowatt hours.

Together, that could raise rates on a typical residential customer who now pays about $113 a month by $11.50, or about 10 percent.

For commercial and industrial users, the increase could vary widely, due to complex rate formulas and depending on the amount of electricity consumed.

If regulators agree, IPL would reap an additional $96.7 million a year. The utility said it needs that money to pay for an assortment of capital improvements and environmental programs.

The matter is wending its way through the Indiana Utility Regulatory Commission. Field hearings to take testimony on the proposal are set for 6 p.m., April 23, at Arsenal Tech High School and 6 p.m., May 7, at New August North Middle School.

Some consumer groups, environmentalists and large industrial buyers say the increases are too steep and that they're prepared to fight.

Industrial customers point out that Indiana's cost of electricity, once the fifth-lowest in the nation, has fallen to 31st place, making the state less competitive as a place to do business.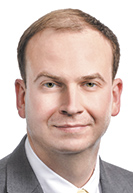 Rompala
"We're definitely scrutinizing this request to make sure it reflects reasonable expenses and prudent investments," said Joseph P. Rompala, an attorney at Lewis Kappes who represents large industrial customers such as drugmaker Eli Lilly and Co. and manufacturer Allison Transmission.

It's difficult to predict whether regulators will go along with IPL's request. Two years ago, the utility asked for permission to raise rates $67.8 million a year to pay for operating and maintenance costs and capital improvements. But regulators slashed that by more than half, granting an increase of $29.6 million a year.

Now, IPL says it needs another increase in its base rates to help pay for more than $2 billion in recent capital projects, including $1.2 billion in improvements at the Eagle Valley power plant in Martinsville and the Harding Street station power plant in Indianapolis.

Meanwhile, IPL is under pressure to increase revenue. Its service territory is limited to about 500 square miles in Indianapolis and surrounding areas, and demand for electricity has been uneven. Last year, it rang up operating revenue of $1.35 billion, up 6.1 percent. Profit climbed 13.7 percent, to $185.3 million, according to financial information submitted to the IURC.

That upturn followed a rough stretch. For the 10 years ending in December 2015, IPL's sales of total retail kilowatt hours decreased at a compound annual rate of 1 percent.

Meanwhile, its parent company, AES Corp. of Arlington, Virginia, has struggled to keep sales and profits on an even keel. The company rang up revenue of $10.5 billion last year, down 6.5 percent from two years earlier. It posted a loss of $777 million last year, driven down by a $1.1 billion charge related to the enactment of the GOP's federal tax-reform package.

To boost results, AES has been taking an ax to its organizational structure. Last month, IPL announced it would cut 100 jobs in Indiana and combine the roles of CEO at operations in Indianapolis and Dayton.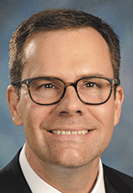 Flora
IPL argues that the 59 percent fixed-charge increase it is seeking, perhaps the most controversial aspect of its rate-hike proposal, makes sense because most of its costs—including power plants, transmission poles and wires—are fixed, and it needs to pay those bills regardless of how much electricity a customer uses.

"Our costs don't go away if customers use more or less electricity," said Ken Flora, IPL's director of regulatory affairs.

In fact, he said, if IPL passed along its actual fixed costs, customers would pay $81 a month before even using the first kilowatt hour of electricity.

He called the utility's requested hike in fixed charges, from $17 to $27 a month, a "modest increase."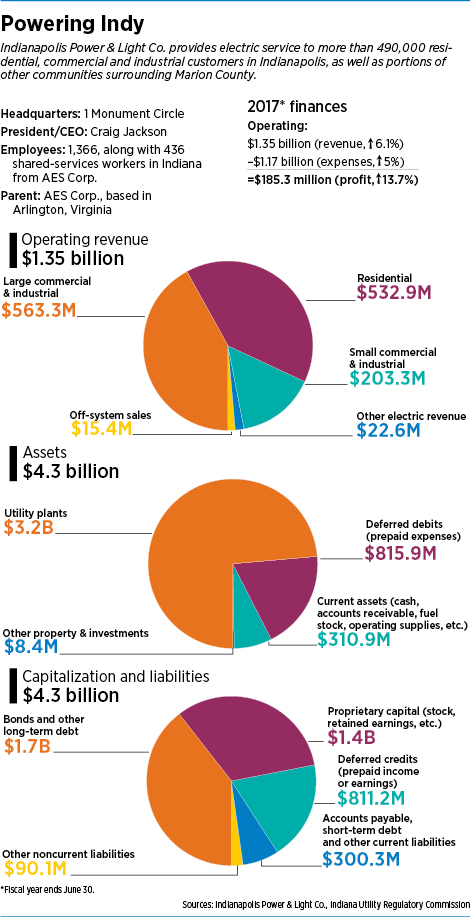 But some consumer advocates don't see it that way. They say a $27-a-month fixed charge would be the highest among all of Indiana's investor-owned utilities, a group that includes Duke Energy Corp., Northern Indiana Public Service Co., Indiana Michigan Power and Vectren Corp.

The Office of Utility Consumer Counsel said it hasn't taken a position on IPL's request yet but is "taking a particularly close look" at the $27-a-month fixed charge.

Citizens Action Coalition, a grass-roots lobbying group, said the higher fixed charge would hurt low-income and fixed-income customers, including senior citizens. In addition, it would penalize customers who are conserving energy and making their homes more energy-efficient.

"Tell the IURC and OUCC to stop the shakedown!" Citizens Action said in a recent newsletter to members. "No more rate hikes for IPL!!"

IPL counters that, while its fixed rate would be the highest among investor-owned utilities in the state, several not-for-profit electric cooperatives charge more, including Rush Shelby Energy ($31), Henry County ($35) and Ninestar Electric ($38.89). "We see $27 as a reasonable amount," IPL's Flora said.

Kroger, Walmart and IUPUI are among the big energy users that have petitioned to intervene in the case, a move that would give them legal standing to present evidence and make objections.

Kroger purchases millions of kilowatt hours a year from IPL for food storage, lighting, heating, cooling and distribution.

"Because of the importance of energy in its Indiana grocery stores, Kroger is substantially affected by the reliability and cost of electricity provided by IPL," the grocery chain said in a filing. "Kroger's intervention in this proceeding is for the purpose of addressing revenue requirement, rate allocation and rate design."

In IPL's service territory, Walmart operates 19 retail stores.

It's unclear how much Kroger, Walmart and IUPUI pay for electricity. Their lawyers did not return calls to IBJ.

IPL would not say how much a particular commercial or industrial customer pays or project what increases any would see.

"It just depends on those customers," Flora said of industrial buyers. "They'll go up, probably in an order of magnitude … but less than residential, because it's generally a little less expensive on a relative basis to serve large customers."

The IURC is expected to rule before the end of the year. IPL hopes to institute the increases by the first quarter of next year.•