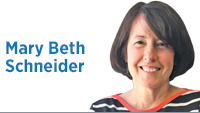 On May 8, Republican voters picked their nominee to go up against Democrat incumbent Sen. Joe Donnelly in November.
Who won?
The guy who backed President Trump the mostest, of course.
Which means it doesn't matter whether it is former state Rep. Mike Braun or U.S. Reps. Luke Messer or Todd Rokita that emerged (a decision made after my deadline). They've each sworn fealty to Trump with such vigor that they are indistinguishable. The primary fight was a race more for sycophant than senator.
What a shame.
We already have Vice President Mike Pence gazing with rapt adoration at everything Trump says, so that job is filled.
I get it. The way Braun, Messer and Rokita conducted their primary campaigns told you as much about the GOP primary electorate as it does about those gentlemen. But the general election math may require reaching out to those independents and moderate Republicans who are appalled by much of Trump's behavior, and who want someone to agree with Trump policies when he is right—but to be unafraid of disagreeing with him when he isn't.
In their final debate of the campaign, the candidates were asked to identify one area in which they disagreed with Trump.
They wouldn't do it.
What a blown opportunity.
How about saying you disagree with name calling and reckless Tweets? Oh? Standing up for civility and thoughtful policy debate is too hard?
Then how about standing up for Indiana farmers. All three men have said they back Trump's plan to impose tariffs, particularly on Chinese goods. China retaliated in April by taking aim at U.S. cars and agricultural products, including pork, beef and soybeans.
In fact, Bloomberg reported, China has essentially stopped buying U.S. soybeans amid the brewing trade war.
In the two weeks ended April 19, China canceled a net 62,690 metric tons of U.S. soybean purchases for the marketing year that ends Aug. 31, U.S. Department of Agriculture data show.
Indiana is the fourth largest soybean producer in the U.S. At a time when farmers already are struggling, a trade war—unless somehow averted—could have dire consequences to Indiana's economy. In fact, Jane Ade Stevens, CEO of the Indiana Soybean Alliance, told WISH-TV that "we will probably see some farmers go out of business" as the collapse of Chinese sales leads to a surplus of soybeans, causing prices to drop.
How hard would it have been for one of the candidates to say the president is right about China's unfair trade practices but that the nation must target the problems without escalating the tensions into a full-blown trade war that leaves Indiana farmers among the casualties? How about saying you will always try to do what is best for Indiana, even if that means disagreeing with a president you support?
I felt the absence of candidates with a spine most keenly recently in reading excerpts from Sen. John McCain's soon-to-be-released book, "The Restless Wave."
McCain—81, battling brain cancer and in his final days as a senator—wrote that he is "freer than colleagues who will face the voters again."
"I can speak my mind without fearing the consequences much. And I can vote my conscience without worry," he wrote. "I don't think I'm free to disregard my constituents' wishes, far from it. I don't feel excused from keeping pledges I made. Nor do I wish to harm my party's prospects. But I do feel a pressing responsibility to give Americans my best judgment."
That is the answer I, at least, was hoping to hear from one of the Senate candidates.•
Click here for more Forefront columns.
__________
Schneider covered Indiana government and politics for The Indianapolis Star for more than 20 years. Send comments to ibjedit@ibj.com.
Please enable JavaScript to view this content.