It started in 1994 as a way to help low-income Hoosiers get health care coverage and social services. Over the next two decades, MDwise Inc. built up a huge membership, connecting people with doctors, food pantries, health fairs, career help and early-childhood education.
But now, MDwise itself could use some help.
The not-for-profit health maintenance organization, which lost $60 million in 2016 and cut about 80 jobs last year, is trying to find a way back under new, out-of-state ownership.
It serves 375,000 people in Indiana, offering health care benefits under the Healthy Indiana Plan (for people not eligible for Medicaid or Medicare) and Hoosier Healthwise (a Medicaid plan for children under age 19).
Now, after 24 years as an Indiana operation, MDwise is part of McLaren Health Care of suburban Flint, Michigan. The deal, announced in November, closed in January for an undisclosed price.
But if McLaren has a game plan for MDwise, it is keeping it tightly under wraps. The company has declined multiple requests from IBJ in recent weeks to discuss how it will run the operation.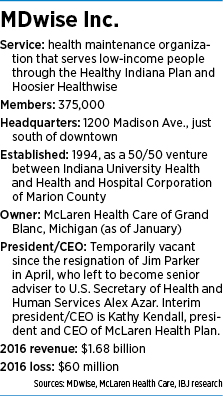 "It's premature for us to be able to discuss details of our efforts to ensure that MDwise remains a solid operation that serves the communities in Indiana," Kevin Tompkins, McLaren's senior vice president for marketing and planning, wrote in an email. "We'll be in a better position to discuss in a couple of months."
MDwise, based on Madison Avenue just south of downtown, has gone through multiple leaders in the past few years. The latest, CEO Jim Parker, quit in April after just 13 months to take a job as senior adviser for health insurance reform to U.S. Secretary of Health and Human Services Alex Azar.
Parker had previously worked as CEO of Indiana University Health Plans and as chief of staff to the president and CEO of Indianapolis-based insurer Anthem Inc. Parker did not return phone calls and messages from IBJ.
Lindsey Lux, senior vice president of operations and management at MDwise, did not return several phone calls from IBJ.
Some supporters of MDwise say they wonder who is steering the operation, and whether the new ownership will guide it back to profitability.
"It would be very sad if something happens to them and they aren't able to continue," said Susan Jo Thomas, executive director of Covering Kids and Families of Indiana, a statewide not-for-profit focusing on health care.
She added: "MDwise has been a great organization. They did a lot of innovative programming and were ahead of the curve for many years."
What MDwise did was connect low-income residents with doctors and clinics all over Indiana through its health plans. It also set up informational events around the state where Hoosiers could learn about benefits, get connected to public housing, and learn about local food pantries and other community and social services.
The goal was to help needy people and to try to improve public health in low-income areas, which typically have high rates of chronic disease such as diabetes, asthma and high blood pressure.
"There are a lot of health disparities in Indiana, and MDwise was trying to target as many as possible to help people," said Donna Stephens, a former MDwise board member and retired director of logistics for the Marion County Health Department.
MDwise was founded by IU Health and the Health and Hospital Corporation of Marion County. It built up a large network of doctors, specialists and hospitals across the state.
But in recent years, MDwise has hit several roadblocks. Early last year, it said it would leave Hoosier Care Connect, a program that serves people 65 or older, blind or disabled who are not eligible for Medicare. The move resulted in 80 layoffs, or about 20 percent of the MDwise workforce, including 23 case managers and 14 nurses.
A few months later, MDwise said it would pull out of the Affordable Care Act's insurance exchange, citing growing uncertainty over the future of the federally subsidized program. The company said its MDwise Marketplace operation had lost $21 million in 2016 on the exchange. The pullout caused nearly 31,000 members to look elsewhere for health coverage.
Last year, the two founding organizations decided it was time to put MDwise up for sale. IU Health Plans and Marion County Health and Hospital Corp.—which also operates Eskenazi Health, the county's health department and the Indianapolis EMS program, along with dozens of nursing homes—said MDwise had grown so large it was time for a bigger owner.
"We're a health care provider, focusing on county issues," Dan Sellers, chief financial officer of the health and hospital group, told IBJ last fall. "MDwise has grown into a mature company, with statewide reach."
MDwise had revenue in 2016 of $1.68 billion, which had risen about 50 percent since 2014, due to Medicaid expansion and the Obamacare exchanges.
McLaren has said it plans to maintain MDwise's Indiana operations, and members will not experience any changes to their benefits or provider networks.
But it also said MDwise would be operated as a separate subsidiary, overseen by Kathy Kendall, CEO of McLaren Health Plan.
McLaren officials said last fall that the purchase will give the company a platform to enter Indiana. The Michigan-based company's system includes 12 hospitals, ambulatory surgery centers, imaging centers, a network of 450 primary care physicians, hospice providers and other services. The company had 2016 revenue of $4 billion and 24,000 employees.
Sellers declined this week to comment on MDwise's future, referring questions to the organization.
The sale, meanwhile, has given the two previous owners a tidy gain. IU Health recorded a gain of $68.2 million. Sellers said Health and Hospital Corp. expected to record a similar gain in coming weeks.•
Please enable JavaScript to view this content.