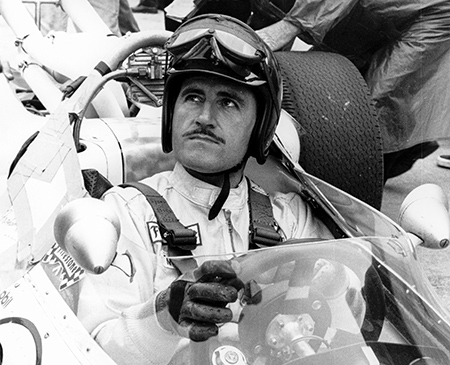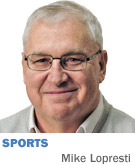 In the end, it's the Greatest Spectacle in Milk Chugging.
As the side of the JW Marriott shouts at us: This is Indy, This is May. After all the concerts and 34,840 hot dogs sold (last year's total), someone has to finish first. It's never over until the checkered flag waves.
Here are 33 items about past winners of the Indianapolis 500—one for each driver who will try to do it Memorial Day weekend.
1. Ray Harroun won the first, then retired. One career Indy start, one victory. The only man to do that.
2. The first driver to win twice was Tommy Milton. He had only one working eye.
3. Louis Meyer became the first three-time winner in 1936, then took a big swig of buttermilk in front of a photographer. You know the rest.
4. A.J. Foyt made history with his fourth win in 1977, and still was almost overshadowed by the driver who finished 29th. Janet Guthrie, Indy's first lady.
5. Five winners have managed to repeat their victory the following year, but Helio Castroneves is the only one to do that in the last 46 years.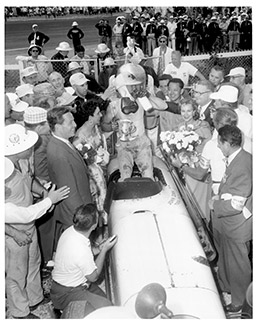 Pat Flaherty, 1956
6. On his sixth try, Scott Dixon won in 2008. He married Emma Davies the same year. He proposed to her in the baggage claim area of a New Zealand airport.
7. California and Indiana lead with seven native sons to win. Been awhile since the last Hoosier. Wilbur Shaw, in 1940.
8. Only eight cars were running by the end of the 1951 race. That included Lee Wallard's No. 99, despite a broken shock absorber mount and exhaust pipe, and failing brakes. The day was so hard for the Navy vet, who once drove bulldozers for a living, he lost 15 pounds. But everyone loved his Cinderella story. Four days later, he was badly burned in an accident and would need 37 skin grafts. By the next year, he had quit driving and was running a bar and restaurant.
9. Kansas drivers have won nine races, matching Indiana's high. Why Kansas? Did we mention Rick Mears was born in Wichita and Johnny Rutherford in Coffeyville?
10. That's Dario Franchitti in the No. 10 car, driving to his second of three Indy victories in '10. He never got to roar past the checkered flag; all three finished under caution.
11. The No. 3 car has won the race 11 times, more than any other. The lowest number to never win? Would you drive 225 miles an hour in No. 13?
12. Sam Hanks tried and failed 12 times to win Indianapolis. He finally did it on the 13th attempt in 1957—and promptly retired in Victory Lane.
13. Jules Goux' margin of victory in 1913 was 13-plus minutes, still the largest ever. See what can happen when a driver sips champagne during pit stops?
14. The mother of all Indy duels: Jim Rathmann and Rodger Ward had 14 lead changes in the last 80 laps in 1960, before Rathmann nosed in front for good on lap 197.
15. Winning in 1924 in the No. 15 car was Joe Boyer. Wait a minute. Didn't he finish 18th? He did that officially in another car, starting in No. 9, but later taking over for L.L. Corum in No. 15. So he actually led the same race in two different cars.
16. Sixteen days after winning in 1929, Ray Keech was gone, killed in an accident at Altoona Speedway in Pennsylvania—the same track that took the lives of 1919 winner Howdy Wilcox and 1924 winner Boyer. Wilcox' death left his 3-year-old son Howard an orphan. Howard would one day come up with the idea of a bike race at Indiana University called the Little 500.
17. With civil war raging in auto racing, and many teams boycotting, there were 17 rookies in the 1996 race, the most in the past 87 years. Winner Buddy Lazier wasn't one of them.
18. Al Unser Sr. began racing at 18. Nearly three decades later, he would become the oldest man to ever win the 500, five days short of his 48th birthday.
19. Troy Ruttman became the first teenager to start an Indy 500 in 1949, at the age of 19. Three drivers younger than Ruttman have started since, but his win in 1952 at 22 still makes him the youngest champion.
20. Al Unser Sr., who began May 1987 with no ride, started 20th, driving a backup car with a chassis that had to be retrieved from display in a hotel lobby. He won.
21. Drivers from 21 different states have won. But not Florida, Georgia, North Carolina, South Carolina, Virginia, Tennessee, Alabama, Mississippi or Louisiana. The South might be fertile NASCAR ground, but it's lousy at producing Indy 500 champions.
22. George Snider started 22 times at Indianapolis, the most for a man who never won. Matter of fact, he led only three laps in 22 years.
23. Floyd Roberts was in the No. 23 car when he won in 1938. He returned to defend his title in 1939 and reportedly was planning to retire after the race. He was killed in a crash on the 107th lap.
24. See Graham Hill in the No. 24 car? He led only 10 laps his entire Indianapolis career. But they were the right 10, when he won in 1966.
25. In 1925, Peter DePaolo won the race, despite needing relief to get his blistered hands bandaged. Fate was on his side—maybe because he had his son's baby shoes tied to his car.
26. Takuma Sato has won one IndyCar race in four years. So happens it was here last May, in the No. 26 car.
27. The list of 500 champions includes a man with 27 letters in his given name. Antoine Rizkallah Kanaan Filho. You know him better as Tony.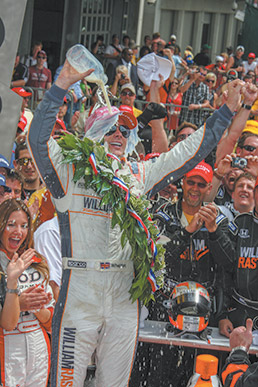 Dan Wheldon, 2011
28. Ray Harroun and Louis Meyer started in the 28th position in 1911 and '36, and won. Still the record.
29. Danica Patrick has led the race for 29 laps in her career, the first 19 as a rookie in 2005, when Danicamania exploded. This May is the last chance to see her before she floors it into the sunset at the age of 36.
30. Pat Flaherty was 30 years old when he won in 1956—wearing a T-shirt.
31. It was in May of '31 that Louis Schneider won the race. He learned about moving fast as an Indianapolis motorcycle policeman.
32. Dan Wheldon was 32 when he took his second Indy 500 in 2011. He was killed five months later. Every other winner from the past 45 years is still alive.
33. In 1933, Louis Meyer won a race that had 42 cars. Sensing the threat of gridlock, officials decided 33 would be a good number. Six previous champions will probably be among those 33 this month. Plus a driver named Danica.•
__________
Lopresti is a lifelong resident of Richmond and a graduate of Ball State University. He was a columnist for USA Today and Gannett newspapers for 31 years; he covered 34 Final Fours, 30 Super Bowls, 32 World Series and 16 Olympics. His column appears weekly. He can be reached at mjl5853@aol.com.
Please enable JavaScript to view this content.