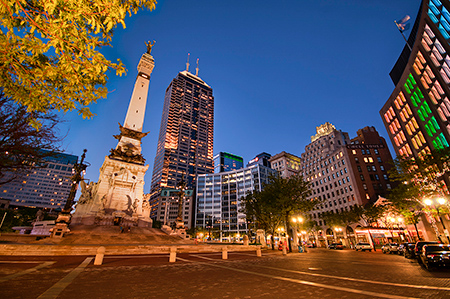 Leaders of Downtown Indy expressed confidence Friday morning that they'll get the petitions necessary to create an economic improvement district in the Mile Square, as a self-imposed end-of-day deadline quickly approaches.
The not-for-profit promotional group has been working since September to establish an EID that would raise about $3 million annually for a decade through a fee that would be added to the tax bills of about 1,200 downtown property owners.
For Downtown Indy's petition to proceed to the City-County Council, it needs signatures of more than half of the property owners in the Mile Square  and enough owners to represent a majority of the area's total assessed value.
Downtown Indy and supporters of the EID say the fee is necessary to bring enhanced services—such as improved cleanup, a stronger police presence and public restrooms—to the heart of downtown.
Leaders on Friday were still hopeful two large downtown property owners that they declined to name would sign the petition and push them over the assessed value threshold.
Downtown Indy, however, still needed 33 more signed petitions Friday morning from downtown property owners—a big enough number that has leaders questioning whether they'll make the goal.
"It's too close for comfort," said Bob Schultz, Downtown Indy's senior vice president of marketing. "But we need to see what comes in tonight and over the weekend."
Under the plan, residential property owners would pay an annual flat fee of $100. For commercial property owners, it would be one-eighth of 1 percent of assessed value. The district would include about 700 residential and 500 commercial properties.
If successful, Downtown Indy plans on Monday to present ordinance language to the City-County Council, which would vote on the EID. If all goes as Downtown Indy officials hope, Mayor Joe Hogsett would sign off on the EID by July 1.
That's because a new state law that goes into effect on the date increases the levels of property-owner support needed for passage. The new law increases both thresholds to 60 percent—way above where the group stands on both targets.
"We're still positive that there will be some movement today, both on the [assessed value] side and the signatures required," Schultz said. "We have a lot of conversations going on between city leadership, civic leaders, hoteliers and residents knocking on doors."
Downtown Indy has faced stiff opposition from the Indiana Apartment Association, which views the fee as an unnecessary tax. Downtown Indy originally had hoped to have a majority in hand to present to the council by the end of December. The organization later acknowledged it would need more time.
It's that uncertainty, with no deadline in sight, that helped prompt the Indiana Apartment Association to take its concerns to state Rep. Sean Eberhart, R-Shelbyville, who wrote House Bill 1278.
Besides increasing the thresholds to 60 percent, HB 1278 limits the time petitions can be gathered to four months and eliminates existing language that allowed EIDs to expand without going through the petition process again.
"In theory, a petition to form an EID could go on forever," Eberhart told IBJ in March. "I thought it was important to put on what I call a shot clock on the process."
Please enable JavaScript to view this content.