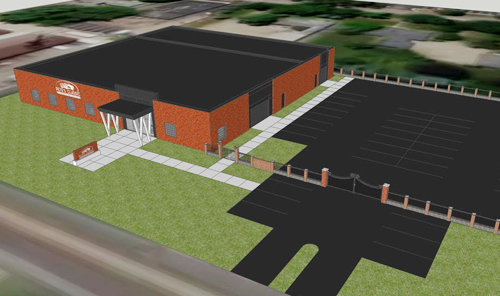 A north-side auto shop that specializes in servicing and restoring high-end European cars is expanding to a second location where clients can store their vehicles in an upscale environment.
Owners of Pete's Service Center, which since 1955 has been located at 4902 N. Pennsylvania St. in the Meridian-Kessler neighborhood, have purchased a building on East 56th Street near North Keystone Avenue.

Eric Grabovsky
Ilya and Angela Grabovsky bought the business in the early 1990s and handed operations in 2005 to their son, Eric, who serves as general manager. The shop advertises its expertise in European makes such as BMW, Audi, Bentley, Rolls-Royce and Volvo. It also focuses on servicing vintage cars.
But with business booming and no space to expand, the family in December purchased the 14,400-square-foot building at 2525 E. 56th St. for $450,000 from Keystone Christian Church Inc., according to county assessor records.
They expect to invest a total of $1.5 million in the project, including purchase price, Eric Grabovsky said.
"We want to create a new staple with the building and help revitalize the area," he said.
The building was constructed in the 1960s for use as a post office but was mostly vacant when the Grabovskys bought it from the church.
Construction is under way and should be finished by the end of the year, Grabovsky said. Pete's will continue servicing vehicles at its North Pennsylvania location while the restoration arm of the business moves to East 56th Street. Vehicle storage will be offered there as well.
The name of the new business will be Pete's Classic Storage and Restoration, Grabovsky said.
"We restore cars at Pete's, but we need to have a dedicated space," he said. "It can take six months to two years to restore a vehicle."
Roughly 10,000 square feet of the building will be used for storage—space that should be able to accommodate 55 cars. Storage will be climate-controlled and will include in the price such services as battery installation and maintenance, routine starting of engines, maintaining tire pressures and checking fluids, professional detailing, and pickup and delivery via flat-bed trucks or enclosed trailers.
Customers most particular about their cars, for an extra charge, can have them "bubble-wrapped" to protect against fingerprints and dust.
Grabovsky also plans to hold weekend events on-site, in an enclosed and secure surface parking lot adjacent to the building, for car club members and auto enthusiasts.
Earlier this month, a city zoning board unanimously voted 5-0 to grant Pete's Classic Car Storage and Restoration a variance, despite a recommendation from Department of Metropolitan Development staff to deny the request.
Current zoning allowed for vehicle storage but not for restoration or events. DMD staff recommended denial citing a Keystone Avenue corridor study from 1986. It cited best uses as low-intensity office, such as medical and dental facilities, and education services.
"It's 32 years old," Joseph Calderon, an attorney representing Pete's, said of the study. "It's in bad need of updating; it doesn't reflect reality."
Pete's is not the only new entry into the local luxury auto-storage market.
T2 Systems Inc. co-founder and car enthusiast Mike Simmons has bought a downtown building and is renovating it into an event and auto-storage space.
Simmons in October purchased the low-slung, one-story structure that formerly housed Harrison College's The Chef's Academy at 644 E. Washington St. and plans to invest $3 million in the project, including its $2.24 million purchase price.
Unlike Pete's, however, Simmons will not be offering auto-restoration services.
Please enable JavaScript to view this content.