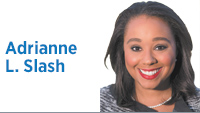 Speaking on behalf of my fellow millennials (and likely a majority of Hoosier residents), we're glad we have finally made it out of the 2018 primary season. On both the local and federal level, we the people are exhausted and over it.
It was unfortunate to see candidates pander to one subset of the electorate, instead of trying to win over new support. It likely has quite a bit to do with the abysmal voter turnout of 15 percent in Marion County. There is too much at stake for just 15 percent of the electorate to decide what is best for our communities.
This number is not new; it is more like the norm for Indy-area elections. Reasons tend to vary depending on the person you ask. Many of the stated barriers can be easily overcome with early voting opportunities, extended hours or even completely revamping the way we cast ballots (but that's another column).
Nothing is more motivating to cast your vote than having a candidate you believe in, or one you're terrified of, on the ballot. How do you know if a candidate is one or the other? We don't. The way this election season is going, we know only the talking points candidates give us, and we must use deductive reasoning based on their campaign materials. Let's face it, few voters are going to the lengths of contacting campaigns or attending events to learn more—therein lies one of the biggest challenges.
How about we consider this as a clean-slate opportunity to get 2018 into full gear?
Speaking on behalf of a generation known for being underemployed, laid off and having to job-hop to seek growth—we're used to interviewing. Millennials are looking at both parties, at all levels, and wondering: "Why am I supposed to like this candidate?" Or, "It's too hard to read through the fancy window dressing to find the real work experience and policy stances."
With that in mind, I have a request for candidates from all of us: Please prepare to interview with the general public for your sought-after position:
■ Please tell us a bit about yourself; let us get to know you as you (and not whom you align with).
■ Next, take a moment to tell us how you plan to do the job as outlined. Provide examples from your experience, with references we may contact with further questions.
■ Last, please make yourself available to engage with us in a setting where we may discuss future opportunities to collaborate.
If we were going to interview for a job, we would be held to this standard. We should do the same with each of our candidates.
It's odd that we are held to a higher standard to work in a call center than to run for an elected position. Why is that? Recently, I was talking to a woman about how she should go about selecting one candidate over another. She was perplexed that I suggested she view the candidates' campaign materials in comparison to the scope of work for the office they're seeking and decide who is best suited for the position. She "had never thought about it that way."
Welcome to America, post-civics class. It's high time we start looking at elections seriously and begin interviewing our candidates according to the position as posted!•
Click here for more Forefront columns.
__________
Slash is a diversity and inclusion consultant in the health care industry and is president of The Exchange at the Indianapolis Urban League.Send comments to ibjedit@ibj.com.
Please enable JavaScript to view this content.