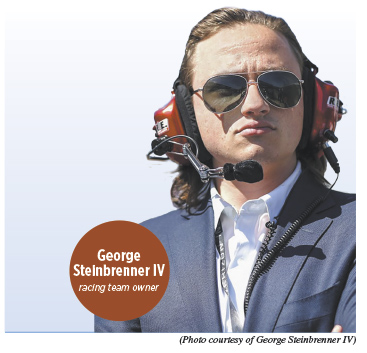 George Steinbrenner IV, grandson of the former New York Yankees owner, is an owner himself—of a team in the IndyCar feeder series Indy Lights. Steinbrenner's driver, Colton Herta, is showing enough promise that the 21-year-old owner hopes to ascend to the IndyCar series. While Steinbrenner has ties to the Big Apple, he calls an Indianapolis suburb home.
How did you get into racing?
I got into racing from my uncle and my cousin. My cousin was an IndyCar driver by the name of Tony Renna in the early 2000s. My uncle is Scott Dixon's head engineer over at Ganassi. I became more and more interested in it, and I started coming to races when I was about 10, 11. I've been to at least one race every year, and the last five or six years, I would go to a half-dozen a year … now, I go to every race.
What do you like about the sport?
I love the competition. Unlike a lot of stick-and-ball sports—where there are two teams going at it, one's going to win, one's going to lose—in racing, especially at the Indy 500, there's one winner and 32 that are going to lose. It's fierce competition, very unpredictable.
What is the Indy Lights series?
The Indy Lights series is the third rung of the Mazda Road to Indy ladder. It's what's called the junior formula; it's a lower-performing car. Each step is progressively faster. The purpose is to take drivers from the first rung to the top. For me, joining Indy Lights, it was a matter of getting my feet wet in the ownership world without having to step right into IndyCar.
How is the team performing this season?
We finished third in the championship last year, in our first season. We had two wins, seven podium finishes and [Herta] sat on the pole position seven times as well. This year, we've missed the podium only once in six races and we swept the latest races here on the [Indianapolis Motor Speedway] road course.
How close are you to competing in the IndyCar series?
Our drive is to be in IndyCar next year. Some things have to work very well for us, but that's what we're aiming for, that's what we're working for—a full-time entry in the IndyCar series next year.
How do you like Indianapolis?
I love Indy. I started coming here when I was younger, because I have family that lives here. I've always liked the area, especially in Carmel. I'm more of a quiet, suburban type of guy.
What do you like about the Speedway?
It's tradition, it's history, it's competition. It's the atmosphere. It's just such a part of the state of Indiana, and the heartbeat of the state. It has a special kind of feel to it that not a lot of tracks in the world can really attest to.
Is the Steinbrenner name a blessing or curse for you?
Mostly it's a blessing, rarely a curse. I wouldn't even call it a curse; it stands out. There are not a lot of people in the world named Steinbrenner. It's hard to avoid the questions. Where it's a blessing, it opens doors. It's very helpful for someone my age and in my position, who's trying to sell a product to companies and clients.•
Please enable JavaScript to view this content.