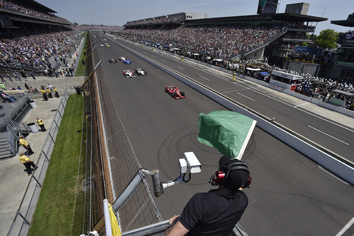 The national television ratings for the Indianapolis 500 this year were the lowest in at least 15 years.
The overnight rating for Sunday's live broadcast was 3.4, which equates to 3.74 million households, according to New York-based Nielsen Media Research. That's the lowest since Nielsen started tabulating overnight ratings in 2003. 
The rating for this Indianapolis 500 was down 6 percent compared with last year and 17 percent compared with 2016, which was the 100th running of the race.
It's expected that the final national rating for this year's Indianapolis 500—when it comes out later this week—will be the lowest since ABC began start-to-finish coverage in 1986.
In the Indianapolis market, the tape-delayed broadcast of the race saw a 41 percent decline from last year, according to overnight ratings.
This year's national overnight rating is down from last year's 3.6. The race scored a 4.1 overnight rating in 2016 and 4.3 in 2015, according to Nielsen.  
The four lowest-rated Indianapolis 500s nationally (2010, 2013, 2017 and 2018) have occurred in the last nine years.
Ratings for this year's race might have been hurt by ABC's decreased marketing of the event. This is ABC's last year to air the race, and the network clearly took its foot off the marketing gas in its lame duck year.
NBC will broadcast the race next year.
The local rating was hurt by going head to head with the seventh game of the NBA's Eastern Conference finals featuring the LeBron James-led Cleveland Cavaliers and the Boston Celtics, who are coached by Indiana native Brad Stevens.
Indianapolis was still the top local market, with an 8.7 rating, which equates to 93,200 households, according to Nielsen. Last year, the Indianapolis market's tape-delayed broadcast had a 14.7 rating.
Dayton, Ohio, had the second-highest Indianapolis 500 rating this year at 6.8, Louisville was third at 6.0, Columbus, Ohio, was fourth at 5.8, and Knoxville, Tennessee, was fifth at 5.7, according to Nielsen.
If there's a silver lining for the IndyCar Series' biggest race it's that it topped Sunday night's NASCAR race, the Coca-Cola 600, which registered a 2.4 rating, which equates to 2.64 million households,  down 42 percent from 2017, according to Nielsen.
Please enable JavaScript to view this content.