Indiana is brimming with thousands of companies built on innovation, from drugmakers and biotech startups to diesel-engine manufacturers and cloud-computing firms.

But for all that expertise here, some companies, such as FirstPerson, an Indianapolis-based human resources and benefits company, likes to tell its employees to hit the road for inspiration.

FirstPerson regularly sends workers to Chicago; Silicon Valley; Austin, Texas; and other far-flung tech hubs to pick up new skills and broaden their thinking.

Some of those trips are for tech and industry conferences, to see the newest products and hear the latest in business techniques and government rules. But many are just for visiting other companies to see how they're solving problems, from setting up product-innovation teams to coming up with new ways of helping clients make decisions.

"We're partnering with other firms to figure out what they're doing," said Bryan Brenner, FirstPerson's CEO and president.

Traveling to other high-tech cities is a key step—often a first step—for companies trying to build innovation teams.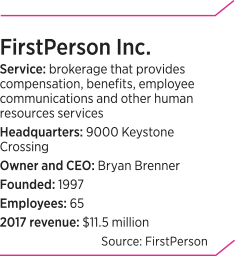 And for FirstPerson, which has overhauled its corporate culture to emphasize innovation, learning as fast as possible was vital.

About two years ago, the company formed a product-innovation team, with representation from marketing, product development, sales and operations.

Today, the company's clients include 43 technology companies in Indianapolis, such as Lessonly (a maker of training software), Cheetah Digital (a marketing data firm) and ClusterTruck (a food-delivery firm).

Corporate-innovation development can take many forms, from national consulting firms that spend months embedded in a company to see where it can operate better, to small, in-house, shoestring operations with ideas scribbled on napkins and scraps of legal pads.

But it all starts with a premise that change and transformation are healthy and inevitable, and organizations that resist them are at risk of being left behind.

Some innovations take hold quickly and sweep the nation, claiming billions of dollars in sales. Think of hybrid cars, smartphones and medical pills that take photos of the insides of our bodies. Others are more modest or gain popularity gradually.

FirstPerson saw an opportunity to roll out innovation of sorts: helping clients manage the day-to-day grunt work of human resources administration, the unglamorous job of helping employees with health claims, health savings accounts, insurance denials and the like.

The selling point: Overworked HR people at small and midsize companies had better things to do with their time than chasing down an endless stream of payroll and benefits questions for workers.

The company set up a product called Simply People, an outsourced service that uses dedicated websites and call-in lines to handle employee communications, from open enrollment through the claims process—along with questions about payroll, time off and other day-to-day HR issues.

The service is a natural sell to fast-growing companies trying to focus on bigger challenges, such as recruiting and making their firms appealing places to work, said Mark Minner, managing director of FirstPerson.

"HR people are inundated throughout the day," Minner said. "They need to stop focusing on benefit administration work that's very time-consuming and stressful. We are the benefits experts. We can help."

One client, Indianapolis-based Cheetah Digital, has been using FirstPerson for about a year, and says the company delivers valuable help that saves time.

"They've helped us with communication to our employees, what we're offering, and what the market is doing," said M.T. Ray, senior vice president of global human resources. "They're always there to answer questions."

Today, FirstPerson's five core values represent that drive, Brenner said. They are client focus, trust, tenacity, collaboration—and, yes, innovation.

"We've always worked hard to be innovative and how to separate ourselves from the competition," he said. "Things change so fast now. To stay on the edge, you have to have things in place to make that possible."•