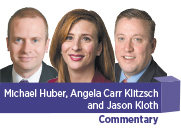 Following more than a year of work by the Indianapolis Promise Task Force, Mayor Joe Hogsett recently shared a vision for our city in which every Marion County resident has the opportunity to earn a post-secondary credential and pursue a meaningful career. Indy Achieves—with the help of corporate, philanthropic and civic partners—aims to increase socio-economic mobility and develop a workforce aligned with the needs of employers.
Our economy is undergoing rapid change. As a function of globalization, automation, the digitization of work, and other factors, new and existing jobs require increasing levels of educational attainment. This is particularly true in the sectors that drive central Indiana's economy: advanced manufacturing, life sciences, information technology, business services and health care.
The jobs being created are good ones, and they will lead to prosperity for the individuals with the knowledge and skills required to fill them. However, there has been—and will continue to be—a decline in the number of good jobs available for individuals who have a high school diploma or less. And of these remaining jobs, many will not pay wages or provide benefits that enable families to achieve the middle-class lifestyle we associate with the American dream.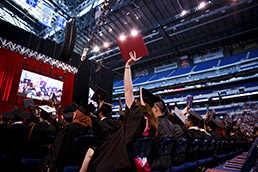 Indy Achieves is meant to help more Marion County students graduate from college. (Photo courtesy of IUPUI)
Georgetown University forecasts that more than 60 percent of Indiana jobs will require a post-secondary education in the coming years, whether that be a valued certificate or an associate's, bachelor's or graduate degree. Only about 40 percent of central Indiana residents have this requisite level of educational attainment. This misalignment comes at a profound cost to individuals, families and our community—career prospects diminish, dependency on social programs increases, and income inequality rises, leading to social and political unrest.
Many factors contribute to the gap between our current workforce and projected employment opportunities. Currently, too few students choose to enroll in post-secondary education. Many students who enroll require remediation in basic math and English, and too few concentrate in high-wage, high-demand fields. Finally, too few complete their certification or degree and find employment in Indiana upon graduation.
Our community must take aggressive steps to align our education system with the 21st century economy. This includes investments to help low-income children attend pre-K, ensure that every student has access to a high-quality K-12 school, and enable more individuals to complete a meaningful post-secondary certificate or degree.
Mayor Bart Peterson and Mayor Greg Ballard focused considerable energy and capital on improving the educational landscape in Marion County, and Mayor Joe Hogsett is following in this tradition through the creation of Indy Achieves.
Indy Achieves seeks to increase the portion of central Indiana adults with a post-secondary credential to 65 percent and eliminate pervasive attainment gaps by 2027. To do this, the initiative will increase the number of students in Marion County who take advantage of the existing 21st Century Scholars program. It will provide last-dollar scholarships and completion grants to cover all unmet financial need for eligible students.
In addition, Ivy Tech Community College and IUPUI will provide academic counseling to ensure students persist and study in fields that lead to self-sustaining wages. And, importantly, these institutions will collaborate with Ascend, EmployIndy and others to help students find internships and full-time jobs.
Indy Achieves is an innovative step toward closing the opportunity gap in our community. Post-secondary educational attainment needs to become the expectation for all Marion County residents. This is a moral imperative and essential for our city's long-term economic growth and prosperity.•
__________
Kloth, a former Indianapolis deputy mayor for education, is Ascend Indiana CEO. Klitzsch is EmployIndy CEO, and Huber is Indy Chamber CEO.
Please enable JavaScript to view this content.