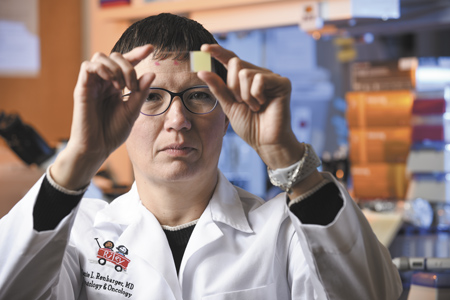 Issues like climate change and the opioid epidemic have been in the headlines so long that it's easy to tune out when we see another wave of news stories on those topics.
But the stakes for the state could hardly be higher. Consider that Indiana is one of four states where the fatal drug overdose rate has quadrupled since 1999. As a result, Hoosiers are now more likely to die from a drug overdose than a car accident.
Or consider that temperatures across Indiana are projected to increase about 4 degrees by mid-century, jeopardizing the nearly $6 billion generated by corn and soybean production each year.
Both topics are of such overriding importance that Indiana University has targeted them as "Grand Challenges"—and thrown massive resources at addressing them.
IU two years ago launched the Grand Challenges program, which sets aside $300 million for as many as five initiatives over five years. The targeted projects are designed to solve "major and large-scale problems facing humanity" that can be addressed only by multidisciplinary research teams.
So far, three have come online.
"Each of the three is very different both in desired outcomes and what is necessary to achieve those goals, but all three are well into implementation—hiring new faculty, attracting new students, launching pilot research programs, and engaging with community partners," IU Vice President of Research Fred H. Cate said.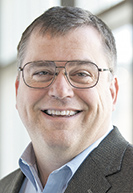 Cate
The first, the Precision Health Initiative, kicked off in June 2016. The roughly $120 million effort has set the lofty goal of curing currently untreatable diseases and understanding factors contributing to individual health. The second, which came online in May 2017, is called Prepared for Environmental Change. It will expend about $55 million to determine how Indiana might prepare for climate change and such climate-related problems as droughts, flooding and disease. The centerpiece is a new, Bloomington-based Environmental Resilience Institute.
The latest, called Responding to the Addictions Crisis, began in October. The $50 million program, billed as one of the nation's most comprehensive anti-addiction efforts, already has begun studying everything from addiction research and policy analysis to workforce development programs. The goal is to reduce addiction deaths and ease the financial and emotional burden on Indiana communities.
The Grand Challenges program arose as part of IU's Bicentennial Strategic Plan, adopted by the school's board of trustees in 2015. It committed the university to address "major and large-scale problems that can only be addressed by multidisciplinary teams of the best researchers." The concept is fairly common within specific disciplines, in which a group of academics might get together to tackle a particularly thorny issue in, say, computer science or physics.
"IU's Grand Challenges program is different, because we are focusing on the greatest challenges facing the people in Indiana," Cate said.
Other universities across the nation have undertaken similar efforts, though usually on a smaller scale. The one most similar in scope to IU's is UCLA's Sustainable LA. Its two goals are to switch the Los Angeles area to 100 percent sustainable energy by 2050 and to make depression a thing of the past by 2100. The scale of its goals makes UCLA something of an outlier, like IU.
"I don't think anybody's doing it the way IU is," said Faith Hawkins, IU associate vice president for strategic research initiatives, who's the lead administrator of the Grand Challenges program.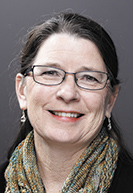 Hawkins
"I think we have uniquely invested in this really broad, multidisciplinary, long-term but focused approach … . It presents both unique opportunities and, on occasion, unique challenges."
Communication challenges
Hawkins' responsibilities span all three Grand Challenges but she is particularly immersed in Responding to the Addictions Crisis.
One of her biggest tasks has nothing to do with routine organizational issues; it's helping experts from different academic disciplines understand one another.
"In every university, every discipline speaks its own language," Hawkins said. "For example, the word 'vector' means one thing to a mathematician, but another to an epidemiologist. We have to help faculty from very disparate disciplines learn to speak to one another and recognize that, while their deep disciplinary expertise is a resource, it's a resource that needs to be translated to other disciplines."
The other translation issue is making Grand Challenges results understandable to Indiana's general public—the very people Grand Challenges is targeted to help.
"We're not navel-gazing," Hawkins said. "We're not asking pie-in-the-sky questions that don't matter. We're engaged in rigorous, focused investigations into things that will impact people in beneficial ways."
The work is already bearing fruit. Hawkins said one of the earliest and biggest unlooked-for benefits is getting different academic departments to work together, and those departments, in turn, to work with public agencies.
"We are succeeding in bringing university research into the communities around us," she said. "I think that's one of the things that has really integrated into the very framework of the Grand Challenges, in a way that is both really unique and really important to our success in the long run."
That's manifested itself in a big way in the addictions Grand Challenge, which has fostered partnerships among researchers, agencies and organizations around the state—just the approach needed to tackle such a multifaceted problem.
Ross D. Silverman, IU professor of public health and law, has seen that benefit in his own work. He's a principal investigator on one of the 16 grants funded during the first phase of the addictions Grand Challenge.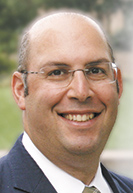 Silverman
His group, which zeroed in on how the law both helps and hinders efforts to solve the opioid epidemic, issued a report in April and has shared it with members of the Indiana congressional delegation and other major stakeholders.
One of the report's insights: Treating addicts, rather than simply remanding them to the criminal justice system, yielded far better results.
"The more that communities saw this as a health issue, the more interdisciplinary and comprehensive and successful their interventions would be," Silverman said. "We heard this from folks within law enforcement and from within the criminal justice system and the judiciary."
The toll of addiction
One development that didn't make it into his paper—but could nevertheless yield huge dividends—was the bonds forged by the interdisciplinary teams needed to gather the data.
"The great challenge of this particular crisis is that it crosses so many boundaries," Silverman said. "It goes into criminal justice, health care, public health, community services, social services, and many other areas."
A study released in May by Ryan Brewer, an associate professor of finance at Indiana University-Purdue University Columbus, and Kayla Freeman, a doctoral student in finance, highlighted the epidemic's sweeping social and economic impact.
It found that, in 2016, 5,243 Hoosier children were in foster care because of parental opioid misuse. Further, economic damage from the misuse of opioids costs Indiana more than $4 billion a year—or $11 million a day.
IU's Cate said the impact of Grand Challenges on the school is difficult to overstate.
"I think there will be significant changes inside the university and, far more importantly, outside of it," he said. "We expect to see dozens of new faculty and hundreds of new students and post-doctoral fellows who come to IU because of the Grand Challenges."
He predicted that Indiana residents will see new, more personalized disease treatments, and advances in the fight against Alzheimer's and cancer.
Helping lead the cancer fight is Dr. Jamie Renbarger, leader of the childhood sarcoma disease research team for the Precision Health Initiative. She helps lead the Riley Precision Genomics Program, which takes on the toughest childhood cancers, tailoring treatments to specific patients based on their genetic profiles while simultaneously conducting research that could have broader implications.
Other research coming out of Grand Challenges will produce new tools communities and industry can use to manage environmental changes, Cate said, and better ways to treat and prevent addictions.
"IU's Grand Challenges program reflects a strategic way of investing resources, so our expectation is that by making more focused and sustained investments, we can achieve far more," Cate said.
"It's a way to double down on that long tradition of university innovation by zeroing in on where change is most needed and where IU, working with partners throughout the state, can help speed that change."•
Please enable JavaScript to view this content.