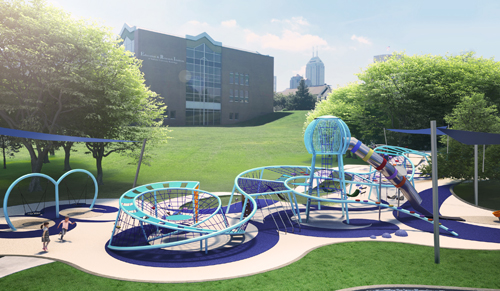 A years-long effort to transform a sliver of land along downtown's Central Canal into a playground finally is coming to fruition, now that the Indianapolis Colts Foundation has stepped in to help fund the project.
The Colts, along with Indy Parks, Indianapolis Parks Foundation and Downtown Indy on Tuesday announced final plans for the Canal Playspace at the north end of the waterway near Walnut Street.
The 1-acre park will feature a vertical climbing tower and ladder, spinner bowl, twister nets and stepping stones. Construction is set to begin later this month and should be finished in September, when the city hosts the Ashburn, Virginia-based National Recreation and Park Association's annual conference.
"This new play space will be an excellent way to promote health and fitness for downtown residents and visitors alike, and we are thrilled to partner with Indy Parks and others to make this a reality," Kalen Jackson, co-owner of the Indianapolis Colts, said in a press release.
The Colts declined to divulge how much they contributed to the cost of the park. The Indy Parks Foundation told IBJ in June 2017 that its fundraising goal had climbed from $800,000 to $1.5 million, after considering increased construction costs and other additional expenses.
More than $700,000 had been raised at that point. A combination of public and private funds have since pushed the total to the $1.5 million goal. That includes the contribution from the Colts Foundation "to close the gap," said Jenny Burrough, the park foundation's vice president of development and public relations.
Raising the money for the park took nearly four years. The parks foundation and Downtown Indy in late 2014 first announced plans for the downtown playground. But a lack of donations delayed the project.
"The city of Indianapolis and Indianapolis Colts are taking major steps to help families stay healthy by creating a first of its kind playground on the downtown Canal Walk," Mayor Joe Hogsett said in a media release. "Together with Indy Parks, we are committed to enhancing our city's parks and greenspaces and reshaping the way families think about play and fitness."
Chicago-based Hitchcock Design Group was selected from 17 design firms that responded to a request for qualifications to design the park. Hitchcock has an Indianapolis office.
Please enable JavaScript to view this content.