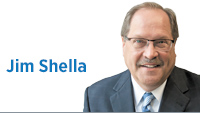 Back in September 1981, I was working as a television reporter in Grand Rapids, Michigan. Grand Rapids is the home of Gerald Ford, and during that month, a series of events were staged to commemorate the opening of the Gerald R. Ford Presidential Museum.
Then-President Ronald Reagan was in attendance and several people in his administration were also in town. So were members of the traveling White House press corps.
The media was informed one afternoon that there would be a news briefing and my credentials permitted me to attend.
It was conducted in an auditorium and began when a spokesperson came out on stage with instructions for the assembled media. No pictures or video would be allowed. No recordings could be made of the comments delivered by an official who, we were told, could only be identified as a "high administration source." Observe those rules or leave the room, the spokesperson told us. No one left.
Then, Secretary of State Alexander Haig walked onto the stage, made a statement regarding world events that escapes my memory at this point, and responded to questions.
It was on the record and Haig could be quoted, as long as those quotes were attributed to that "high administration source."
It all seemed odd to me at the time, but I have come to learn that it is a standard operating practice in Washington and a practice used on a more limited basis in state government. It is one of the ways people in the government manipulate the media. The members of the media go along because it is to their benefit, and that of the public, to know the information—even if the source must be protected.
Sources get protection when it is in the interest of both the reporter and the source. Not all anonymous sources share their information in sinister conversations in back hallways. And sometimes it's hard to tell the difference between a leak and a handout just by reading a news story.
I was reminded of all this recently when Donald Trump attacked The New York Times on Twitter regarding a story about the negotiations over a potential summit with North Korea.
The president tweeted: "The Failing @nytimes quotes 'a senior White House official,' who doesn't exist… Use real people, not phony sources."
That led several reporters to disclose that they talked with the same source and, eventually, one of them produced a tape of the conversation, identifying the source as Matthew Pottinger.
"In the clip, White House Deputy Press Secretary Raj Singh introduces Pottinger to reporters in the White House press briefing room," according to a Newsweek report.
"This briefing's gonna be on background, off camera, not for broadcast," Singh tells the pool of reporters. "Pottinger here can be referred to as a senior White House official. He is deputy assistant to the president for Asia."
Newsweek goes on to say that Pottinger makes the remark that was quoted in The New York Times.
Was it wrong to identify the source? I don't think so. The president undercut the deal made by his own staff.
Trump is intent on damaging the credibility of the media and this episode might prove that better than any previous one. But he might also cause fundamental changes in the way government officials interact with reporters—and that could hurt us all.
Finally, if you share any of this with friends or acquaintances, identify me only as "a seasoned political reporter."•
 
Click here for more Forefront columns.
__________
Shella hosted WFYI's "Indiana Week in Review" for 25 years and covered Indiana politics for WISH-TV for more than three decades. Send comments to ibjedit@ibj.com.
Please enable JavaScript to view this content.