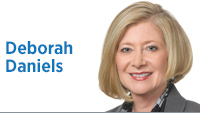 Indianapolis is unique in many ways. We have long had a strong spirit of volunteerism and a can-do DNA, leading us to shoulder challenges that other communities of similar size might never dare to attempt—from the 1987 Pan American Games to the 2012 Super Bowl.

Recently, I have been reminded that we are unique in another way.

We all watched closely as the case of two Indianapolis Metropolitan Police Department officers was heard by the Civilian Police Merit Board. The city held its collective breath while awaiting a decision by the board on whether to uphold Chief Bryan Roach's recommendation that the two officers be terminated for violating departmental policy in the shooting of unarmed African-American motorist Aaron Bailey. Bailey was shot multiple times by the officers while fleeing after a traffic stop.

Roach had concluded that the officers had not followed proper police procedures and that their use of deadly force was not justified.

Ultimately, the merit board concluded, in a 5-2 vote, that, because the officers had been in fear for their lives when they fired the fatal shots, they should not be terminated.

Here's where the people of Indianapolis demonstrated what makes us a special place to live.

First, people didn't take to the streets in violent protest, as occurs in so many other cities. Strong opinions were expressed, and calls were made for immediate changes in the merit board, but we did not experience violence.

Vop Osili, the thoughtful president of the Indianapolis-Marion County City-County Council, requested calm. Saying that city leaders need now to "be silent and listen," he called for community conversations, to hear from all quarters—including police officers and residents—about their concerns. A bipartisan coalition of councilors stood with him and the rhetoric of outrage, which had begun to form the usual polarized debate, subsided.

In response, the African American Coalition of Indianapolis, a collaboration of more than a dozen local organizations concerned about civil rights, published a similarly thoughtful statement. While the AACI clearly feels strongly that officers Michael Dinnsen and Carlton Howard should indeed be terminated, the group supports the community conversations proposed by Osili and appreciates the pledges of Mayor Joe Hogsett and Roach to engage in reforming the police department. In fact, AACI's statement indicates that it has "found a partner" in the police chief, who its members believe is serious about improving police and community relations.

The statement sets out principles about which the group feels strongly, in a forceful but civil manner. It encourages dialogue among the community and police officer associations, so that each can learn more about the others' perspectives.

This sort of thoughtful approach to community crises is not common in other cities. I believe it might trace its roots back to the Race and Cultural Relations Leadership Network, which has met continually since being established by the Greater Indianapolis Progress Committee in 1994. The network brings together police and community representatives to discuss racial and ethnic issues and seeks to resolve concerns through dialogue and enhanced understanding.

A shared belief that the best way to resolve our differences is through mutual understanding has led to a reasoned response, on all sides, to the merit board's decision.

I believe changes will occur, but they will be carefully considered by all parties and arrived at deliberately, in the interest of a stronger and fairer community.

This is one of the many things that makes our city special.•

Click here for more Forefront columns.
__________

Daniels, a partner at Krieg DeVault LLP, is a former U.S. attorney, assistant U.S. attorney general, and president of the Sagamore Institute. Send comments to ibjedit@ibj.com.