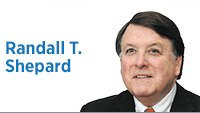 Complaining about elections has long been a national pastime, but American attitudes about the experience have recently featured far more criticism and divisiveness.
National and state officials have contributed to this divisiveness by making multiple changes in how we conduct elections over the last 50 years. Without working too hard at wistfulness, let me lift up a few of the ways it used to be.
First, Election Day used to be a participatory community event. Virtually everybody went to the polls on the same day, unless you voted "by absentee" because you were away at school or had travel plans taking you out of town on that Tuesday. You usually voted at the same place as your neighbors, at a local fire station, school or library, and you saw people you knew. It felt like a group activity.
Second, many of the folks who worked the polls were government employees or appointees holding office by virtue of patronage. Thus, Election Day brought citizens face-to-face with public servants whose future might well depend on how the voters cast their votes. There was at least a little political accountability involved.
Third, for the same two reasons, there was no real need for voter ID at the polls. Most of the time, one or more poll workers knew on sight every person who walked in the door.
Finally, the political ads we viewed were nearly all prepared by and paid for by the committees supporting each candidate, or by political party committees. The few PACs that existed raised relatively little money and mostly sent it to candidate committees. The candidates themselves were accountable for the message and tone of the advertising we saw. It had a leavening effect.
On all these points, and more, much has changed.
For one thing, a lot of people don't vote on Election Day, and many don't vote with their neighbors. In Indiana and elsewhere, a fair segment of people vote early just because they prefer to do so. This is thought to be good for turnout, but there's little data about whether many of them would have come on Tuesday, anyway. And, of course, such voters don't have the old community experience of sharing the day with neighbors.
In a fair number of communities, they wouldn't see their neighbors, anyway, because the county has moved away from neighborhood voting in favor of voting centers. This, too, is thought to be a convenience for voters (and easier for officials to organize), but my analysis of the results from early-adopting counties made it seem more likely that such centers have actually depressed turnout.
Even where precinct voting continues, voters are less likely to see any staff on duty whose future might be affected by the election. Since the U.S. Supreme Court decided (two centuries into American independence) that patronage is illegal, voters don't see as many public servants on Election Day. And more people now understand that there's a lot less connection between whom we elect and whom we pay.
In this detached set of arrangements, recognizing on sight who's a legitimate voter is far less likely. Criminal convictions for voter fraud, as in Indiana's 2008 presidential primary, demonstrate that fraud does happen and can potentially change outcomes.
Finally, campaign-finance-law changes designed to "separate candidates from big money" have made PACs enormous players, especially in national elections. It means that most of the ads we see don't belong to a candidate or the campaign staff. Easier to be rough.
Lots of different decision-makers have made all this happen. I don't think we're better off.•
Click here for more Forefront columns.
__________
Shepard, formerly Indiana chief justice, now serves as senior judge and teaches law. Send comments to ibjedit@ibj.com.
Please enable JavaScript to view this content.