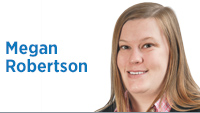 June was chosen for Pride Month to remember the Stonewall riots of 1969, when the LGBTQ community rose against a discriminatory police raid.
Images of the LGBTQ community hiding in bars with no windows to avoid being beaten to death by police officers is a stark contrast to the vibrant celebrations we will see across the country this month. We've come a long way, baby.
The fact remains, however, we have a long way to go. Society has become much more accepting, but we should not pretend prejudice does not exist. There is a reason that LGBTQ youth commit suicide at a far higher rate than the general population.
Even as an adult who is pretty outspoken, I am cautious. I worry about my family's safety. My wife and I make a point not to talk about being gay when in a Lyft or Uber unless we are positive it is safe. Our fears were confirmed when a gay couple was kicked out of their Lyft by a driver right here in Indy just a few weeks ago. I do not have any LGBTQ bumper stickers on my car because my car is the car our family takes on road trips. I hesitated to use the equality-branded mailing labels the Human Rights Campaign sent me because it has my address on it and gives an indication that I'm gay. Even in the "gayborhood" on Mass Ave and the bar where we held our rehearsal dinner for our wedding, I keep an eye out for anyone paying too much attention if I'm holding my wife's hand.
Some people will say I am being ridiculous. Some will say I am being a coward. I would say it is just my reality. And that is the problem.
Society is moving forward but it will never fully accept any minority group. The key here is that our laws have failed to keep up with this movement.
In most states, the LGBTQ community can be openly discriminated against without any legal recourse. In Indiana, I can be turned away from any business and the person can actually say it's because I am a lesbian. Someone can refuse to rent an apartment to my wife and me or refuse to sell us a house. When my wife went on a road trip with her friends to shop for her wedding dress, she panicked because she realized she had not outed herself when setting the appointment and was concerned the shop would turn her away.
Indiana is one of the five states that still has not passed a hate crimes laws, so if, God forbid, I become the victim of a heinous crime intended to intimidate me and others from living our lives in the open, there is no option for increased penalties.
So, my LGBTQ friends and allies, let's have some fun. Enjoy Pride Month and the progress we have been able to see in our lifetimes. Then, let's get back to work.•
If you are a young person and struggling, reach out to the Indiana Youth Group, www.IndianaYouthGroup.org, 317-541-8726. Don't be discouraged. It gets better.
Click here for more Forefront columns.
__________
Robertson is the executive director of Enterprise Republicans and runs her own consulting firm, Frontrunner Strategies. Send comments to ibjedit@ibj.com.
Please enable JavaScript to view this content.