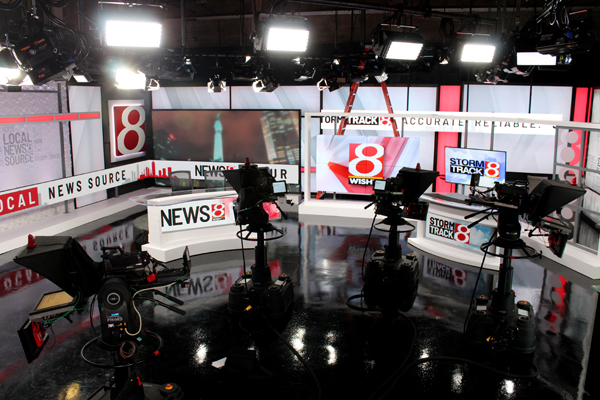 Glossy black floors under shining, 5,600-kilowatt LED lights are now the first sights to greet anchors, engineers and producers when they enter WISH-TV Channel 8's Studio A.
The Indianapolis TV station, owned by Nexstar Media Group, introduced viewers to the new, technology-centric set during a 5 p.m. broadcast earlier this month, the result of a project three years in the making.
Scott Hainey, the station's director of creative services, said internal staff partnered with six outside teams to manage a full, custom set redesign that cost the station $1.5 million. The process involved gutting the original 3,000-square-foot space, built in the 1970s, and renovating it with several additions.
To prepare for the changes, WISH-TV conducted in-house training sessions for producers and designers. Then, they moved to off-air rehearsals with anchors.
"The technology alone makes this set the most unique in the market," WISH said in a statement announcing the changes.
What does that $1.5 million price include?
•    12 color-changing walls powered exclusively by LED lights;
•    87 individual and 20 large-screen LED display monitors, to which station engineers can upload graphics packages, video footage and more;
•    All-LED studio lights, which are more efficient in day-to-day operations, give off less heat and don't distort color;
•    4 Hitachi studio cameras mounted on Vinten robotic camera pedestals, allowing staff to program the cameras to execute shots with greater precision and remember complex positions;
•    A full on-air graphics and music package redesign powered by the Ross Xpression graphics system.
Going virtual
Kevin Finch, an assistant professor of journalism and mass communications at Washington and Lee University in Lexington, Virginia, said WISH's focus on LED lighting, monitors and color-changing walls is part of a commercial trend in TV news that has been occurring over the last few years. But the upgrades aren't exactly cutting edge in the industry, he said.
Before entering academia, Finch was news director of multiple Indianapolis broadcast stations, including WISH.
"This is great for them, and I'm sure they are the newest and latest cameras," Finch said in an email about the station's four new Hitachi cameras. "I'm sure these are good-quality cameras and maybe even high end. But it's just a change-out, not an innovation. It's like a newspaper getting a new press."
Finch said the latest technology trend being embraced by many stations is the all-virtual set.
An all-virtual set is built using chroma key technology, or what most people would recognize as green screens. Creative designers and producers build backgrounds, graphics and other features for the virtual sets with computer programming.  
But Hainey said WISH wasn't that impressed with the virtual options at this point. The redesigned WISH-TV studio features one "low-tech" chroma key wall for weather reports, Hainey said. But that item is largely outnumbered by the other technology in the studio.
"For our needs, I personally don't feel like this technology is 'there' yet, from a flexibility, dependability or ascetics standpoint," Hainey said in an email. "I saw the latest virtual set technology demonstrated a convention in Vegas last year, before beginning our project. For smaller production applications and smaller budgets this could be a good option."
Creative employees at WTHR-TV Channel 13 in Indianapolis, however, are capitalizing on more projects using chroma key and other computer-generated technology.
While WTHR doesn't use an all-virtual set, a wall in the station's main studio is outfitted with a large chroma key screen. Unlike most green screens, this screen is L-shaped, wrapping around a wall corner. This adds dimension and depth to the virtual reality, staff members said.  
The creative team can program this wall with pre-designed graphics packages. During the Winter Olympics in Seoul, South Korea, for example, graphic designers built a visual package that showed off the country's mountains.
Digital graphics meet live storytelling
WTHR also uses augmented reality technology, a feature they say is unique in the Indianapolis market.
Michael Brouder, WTHR's director of marketing and creative services, described the practice with a comparison. More commonly known virtual reality places a real-life user inside a digital space, he said. Augmented reality does the opposite—it takes a digital element and superimposes it on a real-life space, such as projecting a 3D graphic on the studio floor.
While augmented reality sets WTHR apart from competitors, it comes at a price. The program itself, powered by the Ross Xpression graphics system, wasn't difficult for Jason Richards, the station's senior designer, to use for AR projects. But it took him more than a year to feel comfortable with the robotic component, or pairing the computer graphics with in-studio cameras.
Larry Delia, president of WTHR since 2013, said technology adapts to the new reality—consumers are using more platforms and screens. Content providers must also offer the same versatility to stay on top.
He also said producers shouldn't get too wrapped up in technology—at the end of the day, consumers want real people explaining information, not a talking head addressing the public or "gimmicks," such as using augmented reality features in stories where it might not be appropriate.
"We say consumer and not TV viewer. We produce local content," Delia said. "And wherever we can deliver to you, whether that's on your phone, your iPad, your laptop or television, I don't think I'm leaving anything out, we'll deliver it to you."
Staying relevant
From his experience in Indianapolis broadcasting, Finch said the city's stations are far more competitive than they are in most markets nationwide, simply because the population can choose between five competing stations. Technology in this case, he said, becomes the prize jewel.
"This goes to the nature of the competitiveness of local television," Finch said. "There's always some kind of arms race going on in the Indianapolis market."
Another educator and veteran broadcaster, Scott Uecker of the University of Indianapolis, said he believes WISH's updates are a marker of the company thinking ahead of the curve, noting the new set will offer flexibility, better shots, creative backgrounds and overall efficiency.
Uecker said WISH's setup prepares it for 4K graphics and video, too – that's the highest broadcast quality available to producers and consumers, using standards set by the Advanced Television Systems Committee.
And that's just the beginning of what all stations must consider moving forward.
"When the industry went HD, people said it's never going to get better than that," Uecker said. "But it did. In this case, I think the other stations will take a wait-and-see approach."
If there's one item sources agreed on, it's that the unpredictability of technology in communications can be navigated. But that's only accomplished with tech-savvy employees who can blend traditional elements of journalism with the industry's technology standards.
"Technology alone doesn't get you viewers, but it helps us get our stories out there in a more profound way," said Al Carl, WISH-TV's news director.
Please enable JavaScript to view this content.