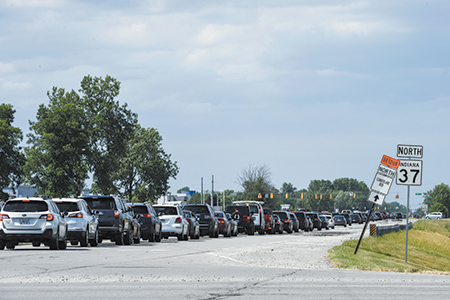 A $124 million project to turn State Road 37 from 126th to 146th streets into a freeway is still about a year away, but construction cones are going up for side projects that will help set the stage for the three-year overhaul.
The project has been a long time coming. Conversations about alleviating congestion on S.R. 37 from Interstate 69 to State Road 32 began in 2005 and revved up four years later, when Hamilton County leaders voted to study the corridor.

About 100,000 cars travel that stretch of the state highway daily, Hamilton County data shows, and traditional traffic signals are no longer the best way to control the heavy traffic.
A 2010 study found unacceptable delays. At 126th Street, for example, the average delay in the evening was 62 seconds at the time of the study. At 141st, the delay was 65 seconds. And conditions were expected to worsen as the county's population swelled.
Leaders initially proposed converting six miles—from Interstate 69 to State Road 32—into a freeway with raised roundabouts, similar to U.S. 31 and Keystone Parkway. The proposal, which carried a $243 million price tag, was unpopular with business owners, many of whom feared it would have a devastating impact on customer visits.
Hamilton County, Fishers and Noblesville officials scaled back the project, announcing in late 2015 that $100 million of state funding had been set aside to reconstruct just two miles of the corridor, from 126th Street to 146th Street. Another $24 million would come from local coffers.
A variety of projects are underway to prepare for the 2019 launch.
Related drainage work is slated to start this fall, and a marketing firm has already begun working with county leaders and business owners to support businesses that will be affected by construction, which will last through 2021.
Project leaders say it's exciting to mark items off their to-do list, signifying the project they've long waited for is almost here. But the inconveniences of construction aren't lost on them, and they're asking residents to be patient.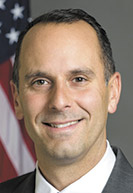 Hill
"I know construction in general is a hindrance," Fishers Director of Engineering Jeff Hill said. But "it is exciting to be finally getting to where we're going to start turning some shovels and moving some dirt."
Several local road projects have recently been completed or are slated to begin, to improve alternative routes ahead of S.R. 37 construction.
In Fishers this month, crews began a roundabout at 131st Street and Cumberland Road; the work should take about 45 days. Intersection improvements are also planned for 126th Street and Allisonville Road, where northbound through and right-turn lanes and southbound through and left-turn lanes will be added.
A roundabout will also be installed at 126th Street and Parkside Drive; construction is scheduled for mid-September through the end of the year.
This month, workers will begin adding at 131st Street and Allisonville Road an additional turn lane to both northbound and southbound 131st Street.

Hill said the projects are ones Fishers would have completed, anyway, but wanted to finish before the S.R. 37 project began.
Two lanes of S.R. 37 will remain open in both directions throughout its overhaul, but the east-west streets (126th, 131st, 135th, 141st and 146th) likely will be closed for some time while those intersections are rebuilt, said RQAW Consulting Engineers & Architects CEO Troy Woodruff, who is leading the project.
The drainage-line reconstruction that begins this fall is necessary because S.R. 37 will be lowered as part of its redesign. Much of that drainage work will be underground and shouldn't affect traffic, Woodruff said.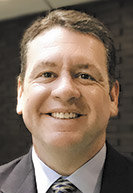 Woodruff
Land acquisition is ongoing, he said, but by now any affected landowners should have been contacted. Altogether, 109 parcels totaling 23.5 acres need to be acquired.
Business owners along the heavily commercial S.R. 37 corridor have been critics of the project since the beginning, worrying that prolonged construction and a free-flowing parkway will hurt their operations.
In response to those concerns, Fishers and Hamilton County each pledged $250,000 toward hiring a marketing firm to address the needs of businesses along the corridor.
The city of Fishers recently hired Fishers-based digital marketing firm Imavex for that task. At a recent public meeting about the project, Imavex CEO Steve Burzynski and Senior Strategic Marketing Advisor Keriann Rich were introduced to business owners and other stakeholders.
Imavex will be responsible for minimizing frustration by keeping the public updated on road closures, changes in traffic patterns and any delays. Imavex will also showcase the project's benefits and help find ways to drive traffic to businesses affected by roadwork.
"Our lead charge is to help ensure the businesses remain in their healthy state," Rich said. "That's leading all of our efforts."
The team has already met with some business owners and will hold a stakeholder meeting later this month. Those meetings will continue monthly through construction, Rich said.
About 60 percent of Imavex's staff lives in Hamilton County, she said, and will be commuting through the construction zone, so they'll be intimately aware of what's going on and any problems that arise.
"We're passionate about making this a successful project," Burzynski said at the meeting last month. "We'll be doing a lot of work with the businesses around here. …We're going to do it right."
A recently redesigned website—drivesr37.com—will also provide stakeholders and residents with information, including a timeline and updates, said Ashley Elrod, Fishers' director of public relations.
Residents can visit Fishers' website for weekly updates about other road projects.
Also, the city and RQAW will continue holding quarterly public information meetings, Hill said.
"We want to continue to have those conversations through these types of meetings to help continue to educate the public as well as bring new people into the fold who haven't heard about the project or are new to the area," he said.•
Please enable JavaScript to view this content.