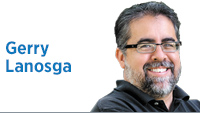 Last month, I wrapped up my 25th semester proudly teaching college students who I hope will become part of the "opposition media."
I put that phrase in quotes because it carries some unsettling implications, but I also think it is suggestive of what the news media do, or should do, in a well-functioning democracy.
The immediate backdrop here is first lady Melania Trump's announcement last month of her "Be Best" program to support children's health. After some news outlets reported similarities between the campaign's promotional materials and previously published materials of the Federal Trade Commission, the first lady's office attacked them as "opposition media" in a news release.
The use of that phrase, and the Trump administration's stance toward the news media in general ("enemies of the people"—remember?), calls to mind its opposite: state media. And that should evoke chilling echoes of authoritarian regimes of past and present. 
As a journalism historian, I think of press licensure in merry old England, where the official imprimatur "Printed with Authority" had to be right at the top of the front page. And then there was our own Sedition Act of 1798, enacted by Congress, in spite of the First Amendment, to suppress criticism of the government. The law was promptly used by the federalist administration of John Adams to prosecute and imprison opposition Republican editors.
Americans of all political stripes ought to be offended at the slightest hint of official sanction—good or bad—of the news media. It might be satisfying when your own people are in charge, but it's a devil's bargain that will become clear enough when there's a change in power.
Of course, citizens also have grounds for concern about news media that are selectively oppositional, and there is research to support arguments about both liberal and conservative bias in the news. What is particularly interesting to me as a journalism professor, however, is how frequently partisans unquestioningly cite news reports from "the other side" when it is convenient to their arguments—evidence of news media that are more consistently oppositional to authority in general.
So what do I mean by oppositional? The ideas might seem basic, but the habits of mind take time and discipline to develop. Don't just question authority—challenge it, regularly. Press for specifics. Don't take no for an answer. Officials are not owed deference. Rather, as the political philosophy that undergirds the American political system suggests, government is the servant of the people.
These are lessons for all citizens, not just journalists. But non-journalists have other jobs, and I want my students to think of themselves as proxies for those citizens who can't do what they do. In that way, public officials are similar to journalists. They are not special. They are, quite simply, regular citizens representing the rest of us.
So it's the journalist's job, as a representative of citizens, to serve as the eyes and ears on those who represent us in exercising the power of the state. In doing so, they should certainly be polite and respectful. "Be a person," I tell my students. But also, be bold and persistent. You speak on behalf of a public that has limited opportunity to speak directly to public officials.
And those officials should be made to defend their positions on a regular basis, should in fact welcome challenges to their positions as "opposition" that helps clarify and strengthen policy.
"Opposition media," in short, is a redundancy. Or, perhaps, a badge of honor?•
Click here for more Forefront columns.
__________
Lanosga, a former reporter, is a journalism professor at Indiana University and president of the
Indiana Debate Commission.
Please enable JavaScript to view this content.