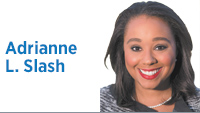 As a product of the 1980s and '90s and a fan of great representation, I've seen a lot of black cinema. Film critics refer to the genre as "hood films." Thanks to John Singleton, Ice Cube and many others, this genre is a reputable eye into the times.
Growing up, there wasn't a film with people who look like me that didn't portray how badly crack had struck the black community. No hip-hop song that didn't cover the epidemic, detailing in full for us how crack was destroying our communities. These reports included everyone involved, from the dependents to the dealers, detention to deaths—thanks to musicians, authors and filmmakers, we had full coverage. All the while, mainstream media was covering the war on drugs.
I find it interesting that the phrase "Bye, Felicia" is so common these days. If you're unfamiliar, consider consulting Urban Dictionary, which defines the phrase as a "farewell to someone deemed unimportant." Felicia was an implied crack user. You can find a graphic T-shirt, thousands of memes and GIFs with the exact scenes from the movie "Friday," in which we first met her in 1995.
Yet, crack wasn't a mainstream epidemic that needed a compassionate response. Crack, its users and their communities were deemed a nuisance and disposable. We weren't training community members or arming law enforcement with the tools needed to reverse an overdose.
Face it, black America was well aware of what crack was doing to our communities. It was ripping our families apart, killing off generations, and sending people to jail at rapid rates. Yet there was no wave of compassion. In many ways, this problem still exists today and more substances have been added to the list.
Today, we acknowledge (and I don't dispute) that opioids are doing the same thing. The only difference is that, this time, it's also affecting the white community. The same horrific outcomes we've watched play out for decades in the inner city have now made their way to the suburbs.
Families are being ripped apart and people are dying at rapid rates; yet this time, there's a wave of compassion for them. Instead of sending "junkies" to jail, we're sending those who suffer from substance abuse to treatment centers. The same government that was turning a blind eye and allowing crack to kill off low-income communities of color is now drawing mass attention to the issue and arming the community to assist users in the event of an overdose.
I can say I know and have known a couple of "Felicias," and I wish we could have done the same for them.
It's time we get this thing right. For every dollar we spend on therapeutic healing, let there be a plan to ensure we are prepared to fight the next epidemic, regardless of race, gender, geographic location, etc. Equity matters. In order to build trust with communities, our response in their time of need must be equitable.
Just as the shockwave of crack was not the last epidemic to hit our community, the opioid epidemic also won't be the last. Let's make sure the wave of compassion reaches urban American communities the same way it reaches suburban American communities.•
Click here for more Forefront columns.
________
Slash is a diversity and inclusion consultant in the health care industry and is president of The Exchange at the Indianapolis Urban League.
Please enable JavaScript to view this content.