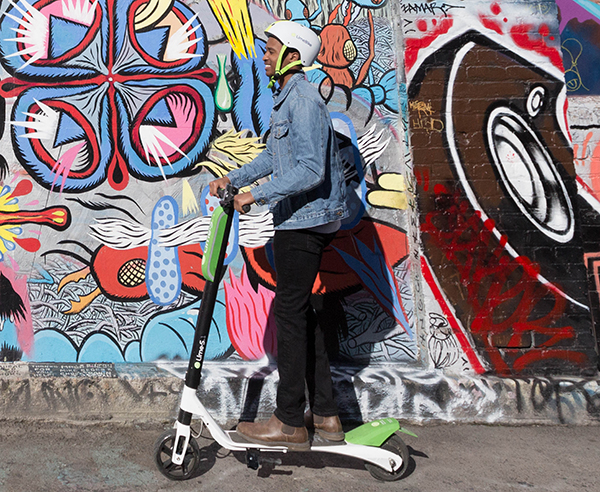 A second service offering electric scooters for rent has entered Indianapolis in less than two weeks, following the introduction of a competitor that caught city officials off-guard.
On Saturday, Lime (formerly LimeBike) began deploying scooters in the city. Customers can unlock the scooters using a smartphone app, ride them to their destinations and then leave them there for other customers to use. Lime workers retrieve the scooters at night, recharge them and then redistribute them to popular locations..
Lime follows electric scooter company Bird, which entered the Indianapolis market on June 15 by dropping its dockless scooters downtown, in Irvington and along Massachusetts Avenue.
City officials were caught off-guard. The city's Department of Business and Neighborhood Services, formerly code enforcement, sent the company a letter asking it to halt the service for 30 days while the city works out a regulatory scheme that would tackle dockless bike and scooter sharing.
Bird chose to continue offering the service while it works with the city on developing rules, according to the IndyStar.
City departments had been working with the City-County Council since April to develop guidelines for new forms of transportation while also ensuring the safety of our residents and neighborhoods, Taylor Schaffer, spokeswoman for Mayor Joe Hogsett, told IBJ in an email. The Public Works Committee will take up the issue this week.
"Because of the rapidly evolving nature of the scooter presence in our city, we do not intend to pursue enforcement actions prior to Thursday's committee meeting so as to provide ample opportunity for the council and the community to have their voices heard on this matter," Schaffer told IBJ.
Because it appeared that Bird could continue to operate without repercussions, Lime decided to enter the Indianapolis market as well, according to a company statement sent to IBJ.
"Our hope is that we and other providers can provide dock-free mobility options to Indy residents on an equal legal footing, allowing this new mobility service to thrive and meet the community's needs," according to the statement.
Council Vice President Zach Adamson told IBJ last week that he had received some complaints about electric scooters and wants any dockless transportation option "operating in some definable parameters to keep them under check so we don't have a free-for-all."
Adamson said he is not opposed to the scooters or a dockless bike-sharing system.
"We'd like this to be a positive experience … which I think will be successful if done right, and for the public to have another opportunity for getting around the city, which the city needs," Adamson said.
Lime's statement said that the company had been working with city officials for six months, providing input into efforts to create regulations for "dock-free mobility options."
Like Bird scooters, Lime scooters cost $1 to unlock and 15 cents per minute of riding time. They can reach top speeds of about 15 mph.
Lime was launched in 2017 and now operates in about 70 markets. Scooters became available earlier this year in major West Coast cities such as San Diego, San Francisco and San Jose, California.
Please enable JavaScript to view this content.