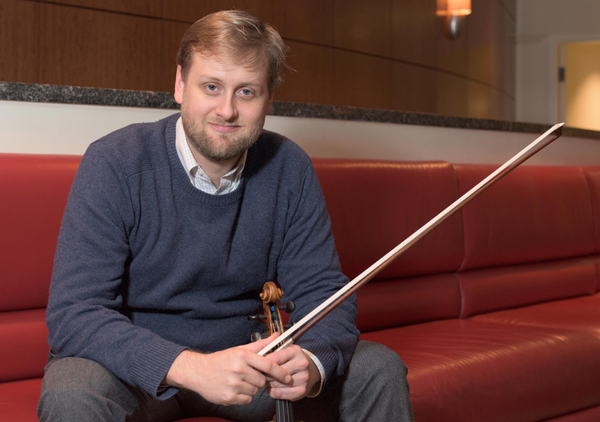 Zachary De Pue, concertmaster for the Indianapolis Symphony Orchestra since 2007, has resigned, the ISO announced Tuesday.
No reason was given for the departure of the 38-year-old virtuoso violinist, who was as well known for his side projects as for his longtime work with the ISO.
"It's been an extraordinary honor to be part of the Indianapolis Symphony Orchestra," De Pue said in a written statement. "I am grateful to have shared the musical experience with countless audiences who appreciate how transformative music can be and how it enriches and enhances our lives. For any musician, aficionado or casual music fan, you know music provides a pathway for creativity and inspiration. I'm looking forward to seeing where new journeys take me."
IBJ was unable to reach De Pue on Wednesday for comment on his exit.
As concertmaster, De Pue served as principal violinist and was second in artistic command behind Music Director Krzysztof Urbanski. Concertmasters typically oversee rehearsals, handle solos, work with the conductor on arrangements and sound, and serve as an orchestra spokesperson in the community.
De Pue also was a founding member and spent 15 years with Time for Three, a classical/bluegrass/pop crossover group that played hundreds of concerts and made national TV appearances.
Time for Three was formed while De Pue, fellow violinist Nick Kendall and double bassist Ranaan Meyer were students at Philadelphia Curtis School of Music. When De Pue landed a full-time gig as section violinist with the Philadelphia Orchestra, the band worked around his schedule as its reputation grew.
In 2006/2007, De Pue was granted leave from the Philadelphia Orchestra to be part of a 130-concert, nine-month Time for Three tour—which included a fortuitous New Year's gig with the ISO. After that performance, De Pue was encouraged to apply for the open concertmaster position.
After winning the job, he moved to Indiana—with Time for Three quickly becoming the ISO's trio in residence.
De Pue decided to leave Time for Three in 2015 to concentrate on his role as concertmaster.
De Pue and his three older brothers also formed the De Pue Brothers Band, a classical and bluegrass group. Their father is Wallace DePue, a composer and professor emeritus at Bowling Green State University.
"Zach's musical talent has been well known by fans near and far," ISO CEO James Johnson said in written remarks. "We wish Zach the very best."
The resignation was effectively immediately, according to an ISO spokeswomen, as the symphony has completed its most recent season and De Pue typically does not perform in its summer concerts.
The ISO said it would begin a search for a new concertmaster in the near future.
Please enable JavaScript to view this content.