It's called Creation Cafe (337 W. 11th St., 955-2389), but a better name for the restaurant at the top of the downtown canal might be Re-creation Café.
After all, when Buggs Temple reopened in 2007, the downstairs eatery was known as the Grille at Buggs Temple (as opposed to the upstairs Tavern at the Temple). The upstairs was recently relaunched as Euphoria and the downstairs as Creation Café. And a late-afternoon lunch at the latter proved that the second time is, in fact, a charm.
Much of that charm has to do with location. The eatery's patio offers a lovely, tranquil look toward downtown.
The primary menu focus now is on salads, soups and sandwiches. Tomato Mozz Salad ($8.25) was an appetizing, if not surprising, starter. The Sinful Steak Sandwich ($11) may not lead to eternal damnation, but it artfully avoided imitating the Philly-style sandwich and, instead, offered slices of grilled-to-order steak on ciabatta bread, garnished with lettuce, tomato, red onion, pickles and caper-horseradish mayo.
The overstated "World-famous mother clucker" sandwiches (the attempt at menu irreverence doesn't quite fit the venue) yielded satisfaction as well.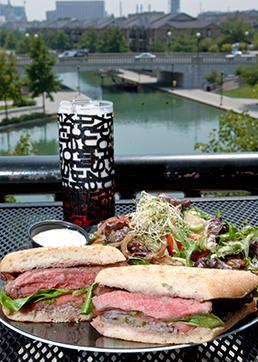 The Sinful Steak Sandwich highlights a creative enough menu of soups, sandwiches and salads. (IBJ Photo/Robin Jerstad)
Our meal included the Clucker from Another Mother ($9—and you're sick of the jokey names already, aren't you?). Here, a standard grilled chicken breast was deliciously and subtly spiced with curry. Greens and cucumber yogurt provided both color and unexpectedly pleasurable accents.
The biggest issue here, for downtown employees, is parking. If you aren't a Clarian employee, bring change and hope to grab a meter out front. Or, better yet, figure out how to take an extended lunch break and include a stroll to and from along the canal.•
—Lou Harry
__________
First in a month-long series of visits to reborn cafes.
Please enable JavaScript to view this content.