This week, a crowded altar at Beef & Boards … and thoughts on expectations.
__________
It might make some top 10 movie musicals lists, but it's unlikely that "Seven Brides for
Seven Brothers" is on anyone's list of favorite stage musicals.
Like
its brethren "Singin' in the Rain" and "Gigi," "Seven Brides"
was created, very specifically, for the screen and later opportunistically adapted for the stage. Just
look at the film's still-stunning barn building dance (you can find it on YouTube if you don't have the film
in your library) and you'll wonder why anyone would even try it on stage. The necessity of a large cast (14 characters
in the title alone) and rustic, outdoorsy setting pose additional challenges.
Which is why Beef & Boards
Dinner Theatre's current production of the show (running through Oct. 4) is so remarkable.
The plot is
unchanged. Six mountain-men siblings' attempt to follow in their brother's marrying footsteps by kidnapping an
equal number of willing ladies. The set is functional but not inspired. The songs are still tuneful but not particularly strong.
The characters are thin and there's no performance that strays from the standard theatrical playbook. And the second
act, which felt trimmed, still peters out rather than builds.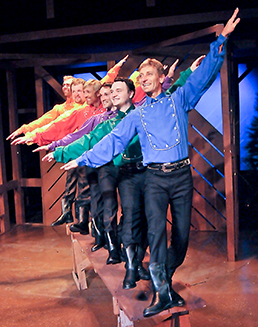 Six of the seven siblings demonstrate their
dexterity at Beef & Boards' "Seven Brides for Seven Brothers." (Photo Courtesy Julie Curry)
But,
boy, is it entertaining. And sometimes even more than that. Under less sure directing—and with a less fleet-footed cast—the
first-act barn dance could have been a cluttered wreck. In it, 12 dancing men compete for the attention of six dancing women
and the brothers' personalities pop from the stage. The moves are both elegant and wild, sometimes at the same time.
And the sequence keeps topping itself, adding up to one of the most joyful numbers I've seen on local stage in quite
some time.
Strong singing, particularly by leads Tony Lawson and Krista Severeid, is a big positive. And Lawson's
sidestep to take a look at his newborn baby is priceless.
Once again, B&B proves that it doesn't take
great material to make a satisfying evening of theater.
__________
Even though "Seven Brides
for Seven Brothers" has a lackluster reputation as a stage show, I walked into Beef & Boards
last week ready to be engaged and entertained.
I bring this up because, whenever I have
less than flattering things to say in these pages, I'm accused of not going in with an open mind.
Just last week, I received two comments regarding a recent review of a local performance, both of which
added that I needed to "lighten up."
When I write a positive review, nobody
ever tells me to "serious up." But that's another matter.
For anyone concerned
about my mental state when I go to a show or exhibition, let me say this: Once I've decided what to review in a given
week, it's my job and my pleasure to be open to what the artists are creating or presenting.
One of the
luxuries I have with this column is the freedom to select what I choose to review. As such, I can dodge work that doesn't
seem to have excellence as a main goal. Or work that is less likely to spark an interesting column. Or work that is, by design
or not, primarily of interest to friends and family of the company.
(Both of these notes, by the way, were from
people who attended the same show on sequential evenings, which seems to me to imply relatives in the cast. I could be wrong.
Who else is going to go on back-to-back nights? Just asking.)
I hope it's clear to regular readers of this
column (and my blog and e-mail blast) that I'm open to anything that I choose to attend and write about, whether that's
Mahler or "Menopause: The Musical." It would be masochistic to be otherwise in this job.
Being open
and receptive, though, doesn't mean accepting whatever is served and labeling it "excellent." It doesn't
mean bending over backward to find a positive so that feelings aren't hurt. It does mean writing honestly about
my reaction to the work. And, trust me, the negative reviews are far more difficult to write than the positive ones.
Such e-mailers and letter writers also may be surprised to hear that I'm actually happy when readers tell me
that they enjoyed something that I found little merit in. Truth is, I'd rather have you disagree with me and have a
positive experience than suffer whatever I've suffered.
Whatever your opinion, consider posting a comment
on You-review-it Monday on my IBJ blog (find it at www.ibj.com). Debate and discussion is actively encouraged.
__________
If you are reading this in the print edition, you might have already found this year's
Arts & Entertainment Season Preview (if you are reading online, well, go buy one—or find me
at the Penrod Arts Fair, where I'll be giving them out).
I hope that after flipping
through it you will be inspired to take advantage of more of Indy's cultural offerings this season.
I look forward to seeing you there.•
__________
Visit ibj.com/arts for additional reviews,
previews and arts discussion. Twitter: IBJarts
Please enable JavaScript to view this content.