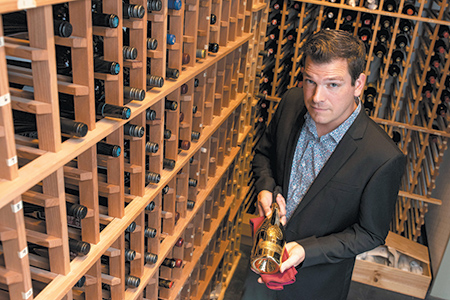 When celebrated local chef Jonathan Brooks, 33, started to plan his latest restaurant, Beholder, he knew he wanted wine to be an important part of the menu.
But he also knew he needed someone who could help his customers connect with the world of wine.
"Wine is a really intimidating thing to a lot of people," Brooks said.
Which is why Brooks, who gained national acclaim with his Fletcher Place eatery, Milktooth, chose 39-year-old Josh Mazanowski as his business partner in Beholder. The dinner-only restaurant opened this month at 1844 E. 10th St.
Mazanowski, a friend of Brooks and a trained sommelier, has both a deep knowledge of wine and the wisdom not to show it off.
"I need you to trust me as a sommelier that we're going to choose the best thing wine-wise for the food experience," Mazanowski said. "But I don't need to have you know that I'm real smart, and know every river in France, and all the soil types, and all the major producers that you should only be drinking. I'm not that."
That's exactly the approach Brooks was looking for.
"With wine, Josh has the perfect demeanor," he said. "He has an enormous wealth of wine knowledge, but he's not the type of person that has to show you all the cards at one time."
Brooks said he wanted someone who could help instruct customers about their wine selections, not "make fun of you or make you feel bad or make you feel stupid."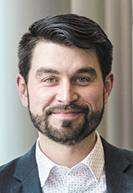 Ratliff
Fellow sommelier Joshua Ratliff, who works as director of hospitality at Newfields (formerly the Indianapolis Museum of Art), offered a similar assessment of Mazanowski.
"I think Josh is incredibly approachable," Ratliff said. "His wine knowledge is academically deep and very powerful, but he's so excited about giving you something delicious that you don't feel like you're talking to an expert."
Mazanowski and Ratliff met several years ago, when Ratliff was studying for his sommelier's exam. Mazanowski was part of a group of sommeliers who helped him prep for the exam.
"Josh has the ability to blow your mind," Ratliff said. "He knows where to go in the world of wine that maybe is just outside your knowledge base. You don't even know that you're going to love this thing."
But it wasn't until his late 20s that Mazanowski found his way into the wine profession.
He'd enrolled in Indiana University to study anthropology, but came to realize he didn't care about earning a degree. He wanted to experience life outside of Indiana, and he had some friends in Seattle.
He moved there in 2001 and worked at a variety of jobs—at a bar, restaurants, a side-gig summer job at a clam and oyster farm—and settled on a career in fine dining.
At one of those restaurant jobs, a co-worker introduced Mazanowski to the world of fine wine.
It appealed to Mazanowski, who was looking for a career path within the industry. "I saw that there was a profession at a high level that was something you could be proud about doing."
The bond
After stints at a few other Seattle-area restaurants, plus a winery job, Mazanowski felt the pull to return home to Indianapolis. He and his partner, Bridgit Desautel, had just had their first child, his mother was ill, and he missed his family. He's the 13th of 16 children and has 56 nieces and nephews.
He'd targeted now-defunct Meridian-Kessler hot spot Recess as the place he wanted to work. When he walked in to submit his resume, the first person he met was Brooks, who at the time was working as the restaurant's chef de cuisine.
Brooks, who had spent time working in Missoula, Montana, liked what he saw on Mazanowski's resume.
"On my weekends, I would drive to Seattle just to go eat, or I'd drive to Portland just to go eat," Brooks said. "So I'd heard of some of the places Josh had worked at, saw his resume and kind of connected with that."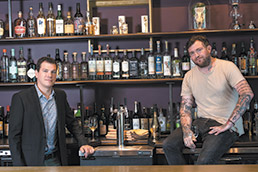 Beholder partners Josh Mazanowski, left, and Jonathan Brooks first clicked as co-workers at the now-defunct restaurant Recess. 
The two worked at Recess together for about 18 months before Brooks left to start Milktooth. And they clicked as co-workers and friends.
So, in 2016, when Brooks started planning Beholder, he called Mazanowski to see if he was interested.
Both share a dark sense of humor and a fiercely independent streak.
"Josh and I are both people who don't like being told what to do," Brooks said.
"This is very true," Mazanowski agreed. "It probably brings me and Jon together the most."
It's a shared trait that creates conflict between them "all the time," especially as they worked on Beholder, the two admit with good humor.
"But we're learning how to manage it," Brooks said. "There was a time where we argued about every single little f**king detail. And now it's like, 'OK, that's fine. I'll bend on this one, you bend on the next one.'"
As an example: A discussion about Beholder's all-ages dining room, which looks radically different from the hip, modern vibe of the other dining areas. The decor in this room, which Brooks describes as "Grandma's house," has pink walls and lace tablecloths. A sideboard holds a bowl of Werther's butterscotch hard candies, free for the taking.
Brooks wanted the ceiling to be pink, but Mazanowski favored white. Much discussion followed. The ceiling ended up pink.
"It was really fun arguing about that stuff, because we knew where we were going. There was a lot of conversation about what was going to happen in each room," Mazanowski said.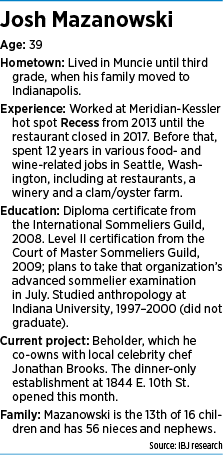 Sell the list
The menu, which Brooks describes as "small and large plates that are inspired by world cuisine," currently features a dozen dishes ranging from eggplant tartare with fry bread to barbecued octopus.
"I think my food is pretty straightforward and easy to understand," Brooks said. "We have kind of a hip, fun, creative environment, and that will draw young people in. And then we can really teach them about wine."
Beholder's current wine list includes about 150 labels, Mazanowski said, and "that number will grow as we find our footing."
It's an approach that could spell success, observers say.
Wine is expensive to buy and store, which is why most Indianapolis restaurants don't have extensive wine lists, said retail broker and wine enthusiast Brian Epstein. Epstein was a partner in Fountain Square eatery Marrow, which closed in June 2017 after an 18-month run.
Wine's temperature-controlled storage can cost anywhere from $3,000 for a wine cabinet, up to $50,000 to $100,000 for a large wine cellar, Epstein said.
But a big part of a sommelier's job is to oversee a restaurant's wine and bar operations, and make sure they're operating profitably.
"Really, they're a salesman. Their job is to educate the customer that doesn't know anything about a particular wine, and sell their list," Epstein said. "There's a good markup on wine. That's what pays the bills."
Newfields' Ratliff said a wine program can serve multiple purposes for a restaurant.
"At a fine dining restaurant, a wine program is really going to be a major revenue driver," Ratliff said. "And it's also a way for people to do more than have a few bites to eat—to have a full hospitality experience."
A restaurant with a good wine selection, he said, offers one more thing for customers to explore. "They're looking for the next country on their cuisine passport," he said. "They want the Instagram story that includes all the best restaurants. They want the people there [at the restaurant] to know them.
"People want to prove that they are adventurous—to themselves and to their restaurant."•
Please enable JavaScript to view this content.