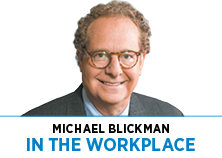 Drug testing job candidates and employees is commonplace, but I had a revealing conversation with the president of a company last week.
This client employs about 300 individuals. We were talking about the opioid crisis. He said that, last year, he instructed his human resources department to stop sending job candidates out for drug tests. With a tone of resignation and regret in his voice, he said, "We concluded that we had a choice. We could either keep doing drug testing and hire no one. Or, we could stop testing and hire people so that the work gets done. It wasn't a tough decision."
Many employers are facing this same dilemma. While many clients still engage in drug testing, an increasing number of them are questioning whether they should continue to test for marijuana. The National Institute of Drug Abuse recognizes marijuana as the most commonly used illicit drug in the United States. Consider these published institute findings:
◗ More than 11 million young adults, ages 18 to 25, used marijuana in the past year.
◗ While the rate of marijuana use among middle and high school students is not as high as in years past, the percentage of young people who believe the regular use of marijuana is risky is decreasing.
We are in the midst of a culture shift with marijuana. The majority of the next generation of workers might be of a mind that marijuana use is of no consequence. While marijuana use and possession are still unlawful under federal law, many states have legalized its use and even private home cultivation. Medical marijuana is now legal in about 30 states. Indiana's Legislature created a study commission to hold hearings on medical marijuana issues before the 2019 session, so Indiana might not be far behind.
Marijuana is being used in new and not easily detectable ways, including through the use of vaping devices. It seems that every strip mall includes a vaping retailer. It has become a $2-billion-plus industry.
Vaping devices are designed to pull THC, the main psychoactive ingredient in marijuana, out of the plant so the user can inhale vapor rather than smoke. Users can purchase liquid marijuana extract for these devices (unlawful in Indiana and most states, and still unlawful under federal law).
In addition, marijuana users are using "consumables," including candy, cookies and CBD oil that are odor-free and that might contain prohibited levels of THC (more than 0.3 percent is illegal in Indiana). The point is that an employee's use of marijuana in the workplace is no longer obvious.
Complicating the issue is that employees are starting to argue that they should be protected by various employment laws in connection with marijuana use, particularly if they claim an addiction to the drug or if they have lawful prescriptions for medical marijuana.
The Americans with Disabilities Act provides protections to those who have drug addictions, but it does not protect an individual who is a current user of an "illegal" drug. Most courts that have considered whether an employer is required to make a reasonable accommodation for medical marijuana users have ruled in favor of the employer. But the legal analysis does not simply end there. Several states, including Illinois and New York, have laws that prohibit discrimination against individuals who lawfully use medical marijuana outside the workplace.
The ultimate challenge for an employer is how it can safely navigate federal, state and local laws that create irreconcilable conflicts. If you have employees in states where CBD oil or medical marijuana is legal, or in states that prohibit employers from taking action against employees who use marijuana outside the workplace, it is time to review and possibly revise or clarify your substance-abuse policies.
Most drug- and alcohol-use policies are "zero-tolerance" and with good reason. Employers do not want employees to come to work under the influence of alcohol or illegal drugs. Many employees use dangerous machinery or drive vehicles as part of their day-to-day responsibilities. No employer should be expected to tolerate drug or alcohol use by such employees.
In addition, employees who work outside the office, including those who visit customers, create serious risk to themselves and to others if they work under the influence of drugs or alcohol.
Many financial analysts predict that, by the end of the next decade, the marijuana industry will be controlled by the major tobacco companies and that purchasing marijuana at the neighborhood drugstore will be as easy as picking up a six-pack. And does anyone really believe Amazon isn't watching this trend?
Employers should remain vigilant to changes in the law. At the same time, educate employees about company expectations regarding substance abuse in the workplace, and the serious consequences of not meeting those expectations.•
__________
Blickman is a partner in the Labor and Employment Group at Ice Miller LLP.
Please enable JavaScript to view this content.